Previous Devotionals in This Series:
MATTHEW 5:43-44 (NKJV)
You have heard that it was said, 'You shall love your neighbor and hate your enemy.' But I say to you, love your enemies, bless those who curse you, do good to those who hate you, and pray for those who spitefully use you and persecute you . . .
In Matthew 5:43-44, Jesus tells us to be so generous in loving and serving others that we extend grace and kindness not only to the nice, easy-to-love folks around us, but to our enemies as well. That's a pretty tough thing to do! Thankfully, we don't have to do this alone. He gives us His Holy Spirit to help us carry out our part.
Four things that I know about the Holy Spirit are very important as I try to practice this in my daily life. First, the Holy Spirit actually indwells believers from the moment we are born into God's family, (I Corinthians 3:16). That means He is ever present with me. He's always here! There's never one single moment when I'm left on my own to do the difficult task of loving and serving others.
Second, God's Spirit teaches and guides me in knowing what is the right thing to do. He gives me insight so that I know how to love others in appropriate ways, (John 14:26).
Third, as I allow Him to work in my life, He actually produces in me the love that I'm required to give so freely to others—even to my enemies, (Galatians. 5:22). That's amazing!
And He is my Comforter. When I love and serve others even though I don't feel they deserve it, don't receive the appreciation or acknowledgment that I feel I deserve, or I am mistreated instead of being loved in return, God's Spirit comforts me. He helps me move beyond my hurt and disappointment. He turns my focus to Christ and away from self so that I do not become angry or embittered, (John 14:16 & 18).
Galatians 5:19-25 portrays the very vivid contrast between a life of one who makes choices based on satisfying the desires of the flesh—his own human nature and physical pleasure—and the person who allows the indwelling Holy Spirit of God to control his life. One way leads to chaos, confusion, and contention in the life. The other choice leads to joy, satisfaction, and harmony with God and others. It also exalts the name of Christ, (John 16:14). It's easy to see which way is best, but I have to make the intentional choice to be led by the Spirit. It's a day to day, moment by moment intentional choice. It won't just happen by accident.
Almighty Father, I sometimes have trouble loving others. Thank You for providing Your Holy Spirit to motive and empower me in those moments. Show Your love through me and glorify Your name.
By Ann Shorb
Read Essential Topics of Knowing God at http://www.ccesonline.com/articles.htm.
©Copyright Ann Shorb, 2012
Scripture taken from the New King James Version. Copyright © 1982 by Thomas Nelson, Inc.  Used by permission.  All rights reserved.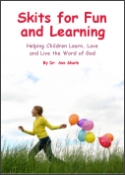 Skits for Fun and Learning
Skits for Fun and Learning is a collection of 15 puppet scripts and 5 articles on the subject of success with puppet ministries. The articles and scripts have been written by Dr. Ann Shorb and the book is available for purchase as a paperback, or as a PDF download.