Previous Devotionals in This Series:
JOHN 15: 9, 12 (NKJV)
As the Father loved Me, I also have loved you; abide in My love . . . This is My commandment, that you love one another as I have loved you.
When it comes to establishing priorities, the most foundational question a believer can ask is, "What is God's greatest priority for me?" The answer the Lord Jesus Christ gave when religious leaders asked Him the same question was, "'You shall love the Lord your God with all your heart, with all your soul, and with all your mind.' This is the first and great commandment. And the second is like it: 'You shall love your neighbor as yourself.'" Simply put, we're to love and serve God with all we've got. We're to love and serve others in the same way. Most of us don't consider these thoughts when we're working on time management and setting priorities!
We discovered that in order to love and serve God with all our heart, soul, and mind, we have to know Him. That means developing a deep, intimate relationship with Him by connecting with Him on a day to day basis. But what about loving others in the same way? Again, Christ is our perfect example of how to do that.
Examine His life and you'll see that people constantly thronged to Him. Multitudes came to hear Him preach. Others came to see the miracles. Some came to receive a miracle. And then there were those who came just to see what He was like. It didn't matter why they came, Christ acknowledged them, spoke to them honestly, reached out to them, and always pointed them to God. The Lord Jesus demonstrated that He truly cared, and allowed the love of His Heavenly Father to flow through Him to others as He interacted with them.
Read through any of the Gospels and you'll see that the way Christ loved others is a clear reflection of how He loved His Father, and how the Father loved Him. It's the same for us. We cannot truly love our Heavenly Father without that love oozing out of us and spilling on to the world around us. The more we seek to know God, the more we become like Him, and the more His characteristics show as we live our day to day lives. It's inevitable! If I'm becoming like God, I will naturally be kind, patient, gentle, good, peaceful, and unselfish (Galatians 5:22-23). So it's obvious that knowing God is absolutely necessary in order to love and serve Him with all I've got, and also for loving others in the same way. Therefore, I need to make knowing Him my first priority!
Father in Heaven, keep me focused on knowing You.
By Ann Shorb
Read Essential Topics of Knowing God at http://www.ccesonline.com/articles.htm.
©Copyright Ann Shorb, 2012
Scripture taken from the New King James Version. Copyright © 1982 by Thomas Nelson, Inc.  Used by permission.  All rights reserved.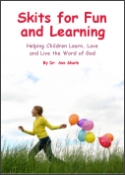 Skits for Fun and Learning
Skits for Fun and Learning is a collection of 15 puppet scripts and 5 articles on the subject of success with puppet ministries. The articles and scripts have been written by Dr. Ann Shorb and the book is available for purchase as a paperback, or as a PDF download.