MATTHEW 22:34-40 (NKJV)
But when the Pharisees heard that He [Jesus] had silenced the Sadducees, they gathered together. Then one of them, a lawyer, asked Him a question, testing Him, and saying, "Teacher, which is the great commandment in the law?"
Jesus said to him, "'You shall love the Lord your God with all your heart, with all your soul, and with all your mind.' This is the first and great commandment. And the second is like it: 'You shall love your neighbor as yourself.' On these two commandments hang all the Law and the Prophets."
Can you hear them? All around us right now mothers are shouting—"Yipee! The kids are back in school!" "Today's my favorite day of the year . . . It's the first day of school!" "Thank heavens, summer is over!" If you haven't heard these cries yet, just keep listening and you will.
Admittedly some parents give a big sigh of relief when school's back in full swing because they are exhausted from having their kids at home 24/7 for the last ten weeks. Others simply ran out of ideas for keeping kids busy once the boredom of summer vacation set in. But for many, the cry of rejoicing comes from knowing that once school starts, life settles back into some type of normal routine and rhythm. For most people, there's something very comforting about that.
As you establish your fall routine, it's a great time to do a bit of self-assessing and examine your priorities. How do you spend your time, money and energy? Where is your focus? What really are your main concerns? Someone said that you can tell what your priorities are by looking at two things—your checkbook and your calendar.
The Lord Jesus clearly revealed God's top two priorities for those who follow Him. When asked by religious leaders what was the greatest of all God's commandments, Jesus replied: "'You shall love the Lord your God with all your heart, with all your soul, and with all your mind.' This is the first and great commandment. And the second is like it: 'You shall love your neighbor as yourself.'
As a simple exercise to discover what your priorities really are, pick a day this week and jot down everything you did during that day. It's easiest if you have a tablet handy and record what you are doing as you go through the day. It doesn't have to be exact, but as you review your notes later, they will reveal what your focus really is. Then compare it with God's top two priorities for His children and see how you are doing. If you really want to get a more thorough picture, take a different day each week for the next month and do this exercise.
If you truly have a heart to live God's way, ask Him to help you begin to make the adjustments necessary to bring your priorities in line with His. While it may be a challenge to make these changes, it can be done, and the benefits of living God's way will be enormous!
Lord Jesus, I realize that living for You must be done moment by moment. Help me examine my daily routine and see what adjustments I need to make to fulfill my desire to love and serve You, and to love and serve others.
By Ann Shorb
FREE DOWNLOAD! "Back to School With Success"–Practical tips and resources for parents
This brochure can be printed and distributed free of charge to students and parents in your church, school or organization.
©Copyright Ann Shorb, 2012
Scripture taken from the New King James Version. Copyright © 1982 by Thomas Nelson, Inc.  Used by permission.  All rights reserved.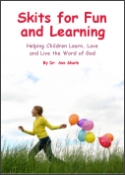 Skits for Fun and Learning
Skits for Fun and Learning is a collection of 15 puppet scripts and 5 articles on the subject of success with puppet ministries. The articles and scripts have been written by Dr. Ann Shorb and the book is available for purchase as a paperback, or as a PDF download.