ISAIAH 29:13
Therefore the Lord said:
. . . these people draw near with their mouths and honor me with their lips, but have removed their hearts far from Me . . .
In stores all across America this week, people stand quietly reading Valentine cards one after another to find pretty words to give to that special someone in their life on February 14th.
But if you followed those people home and watched the interaction between them and their loved ones, would their actions say the same thing as the language in the card they just purchased? Tender lines written in a lovely card are wonderful–if they truly reflect the feelings of the heart. Loving kindness and thoughtful gestures from day to day are what really make those words powerful. Otherwise, they are just meaningless babblings and sentimental nothings. They are but empty words, and who wants that?
God doesn't want empty words either. He doesn't want empty rituals. He wants sincere adoration backed up with a life that says, "I respect You, I honor You, and I trust You with my life as well as with my praise."
While here on earth, Jesus rebuked the Pharisees and decried their great religious works. He pointed out their double standards saying, "You also outwardly appear righteous to men, but inside are full of hypocrisy and lawlessness." (Matthew 23:28) Their words were empty and their works were hollow because their hearts were actually far from God.
Whether you are speaking to God or communicating with those around you, let your words be true and sincere. Remember, empty words and hollow works reflect an empty heart. How's your heart today?
PRAYER: Lord, help the words that I speak and the life that I live to be rooted in genuine love and adoration for You.
WORDS TO PONDER: "Let the words of my mouth, and the meditation of my heart, be acceptable in Thy sight, O Lord, my strength, and my Redeemer." –King David, Psalm 19:14
"It is so possible to have heads that are full while we have hearts and lives that are empty."
–Nancy Leigh DeMoss, Author and Bible Teacher
By Ann Shorb
Copyright Ann Shorb, 2015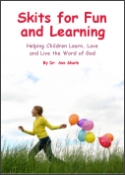 Skits for Fun and Learning
Skits for Fun and Learning is a collection of 15 puppet scripts and 5 articles on the subject of success with puppet ministries. The articles and scripts have been written by Dr. Ann Shorb and the book is available for purchase as a paperback, or as a PDF download.