PSALM 55:17 (KJV)
Evening, and morning, and at noon, will I pray, and cry aloud: and He shall hear my voice.
The telephone company delivered new books yesterday. They're a wonderful resource and certainly help when we're trying to locate specific people, places or services, but since things change so rapidly, these books have to be updated every year. Here's a list of numbers that will never be out dated or out of service because the lines of Heaven are always open and always operating.
Emergency Phone Numbers
When in sorrow call John 14
When men fail you call Psalm 27
If you want to be fruitful call John 15
When you have sinned call Psalm 51
When you have worry call Matthew 6:19-34
When you are in danger call Psalm 91
When God seems far away call Psalm 139
When you faith needs stirring call Hebrews 11
When you are lonely and fearful call Psalm 23
When you grow bitter and critical call I Corinthians 13
For Paul's secret to happiness call Colossians 3:12-17
For understanding of Christianity call II Corinthians 5:15-19
When you feel down and out call Romans 8:31
When you want peace and rest call Matthew 11:25-30
When the world seems bigger that God call Psalm 90
When you want Christian assurance call Romans 8:1-30
When you leave home for labor or travel call Psalm 121
When your prayers grow narrow or selfish call Psalm 67
For a great invention/opportunity call Isaiah 55
When you want courage for a task call Joshua 1
For how to get along with fellow men call Romans 12
When you think of investments and returns call Mark 10
If you are depressed call Psalm 27
If your pocketbook is empty call Psalm 37
If you are losing confidence in people call I Corinthians 13
If people seem unkind call John 15
If discouraged about your work call Psalm 126
If you find the world growing small and yourself great Psalm 19
Alternate Numbers
For dealing with fear call Psalm 34:7
For security call Psalm 121:3
For assurance call Mark 8:35
For reassurance call Psalm 145:18
–Original Source Unknown
Lord, it's a comfort to know that any time I call on You, You hear and You answer. I never get a busy signal or and "Out of service" message. Because of Jesus, the lines of communication with You are always open. How I praise You for this gift!
By Ann Shorb
©Copyright Ann Shorb, 2011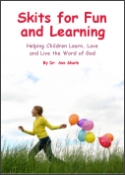 Skits for Fun and Learning
Skits for Fun and Learning is a collection of 15 puppet scripts and 5 articles on the subject of success with puppet ministries. The articles and scripts have been written by Dr. Ann Shorb and the book is available for purchase as a paperback, or as a PDF download.