JOHN 5:1-9 (NKJV)
After this there was a feast of the Jews, and Jesus went up to Jerusalem. Now there is in Jerusalem by the Sheep Gate a pool, which is called in Hebrew, Bethesda, having five porches. In these lay a great multitude of sick people, blind, lame, paralyzed, waiting for the moving of the water. For an angel went down at a certain time into the pool and stirred up the water; then whoever stepped in first, after the stirring of the water, was made well of whatever disease he had. Now a certain man was there who had an infirmity thirty-eight years.
When Jesus saw him lying there, and knew that he already had been in that condition a long time, He said to him, "Do you want to be made well?"
The sick man answered Him, "Sir, I have no man to put me into the pool when the water is stirred up; but while I am coming, another steps down before me."
Jesus said to him, "Rise, take up your bed and walk." And immediately the man was made well, took up his bed, and walked. And that day was the Sabbath.
In John 5:1-9 we read the exciting story of the lame man who sat by the Pool of Bethesda hoping to be healed by being the first to enter the pool after the angel stirred the waters. When Jesus arrived on the scene He asked the lame man a simple but profound question, "Do you want to get well?"
Why would Christ ask such an obvious question? He could see the man had been in that condition for many years. Thirty eight to be exact. Did the man really want to find healing or was he just there so he could say he was trying? Knowing that being whole would change every area of his life, could it be that he was comfortable staying the way he was simply because it was all he had known?
Each of us has certain areas of our life that need God's healing touch. These are the things that hinder our spiritual growth and keep us from living in the freedom Christ longs to give us. The question is, do we really want to be well or do we want to hold on to the old habits or attitudes that cripple us? Is it possible that the security of functioning in old and familiar ways keeps us hanging on to sinful and unproductive behaviors and attitudes? In order to get well, you and I must answer the question, "Do you want to get well?"
The lame man in the story told Jesus that He wanted to take action but he realized that he was helpless on his own. He also knew no one was there who could do the work of getting him to the place of healing. In His mercy Christ did what the man could not do for himself. Jesus said, "Rise, take up your bed and walk." Immediately the man was healed.
God probably won't choose to heal you immediately, but be assured that if you depend on Him to help you do what you can't do for yourself, the victory can be yours! You can find freedom from things that now hold you in bondage. You can be whole.
Heavenly Father, help me to break free from habits and attitudes that hold me back from finding complete wholeness and wellness in You. Let me throw off the doubts, fears, complacency, complaining, and compromise that prevent me from walking in the freedom of Your Spirit.
By Ann Shorb
©Copyright Ann Shorb, 2011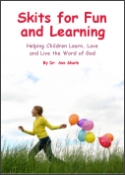 Skits for Fun and Learning
Skits for Fun and Learning is a collection of 15 puppet scripts and 5 articles on the subject of success with puppet ministries. The articles and scripts have been written by Dr. Ann Shorb and the book is available for purchase as a paperback, or as a PDF download.