JOHN 10 27-30 (NKJV)
My sheep hear My voice, and I know them, and they follow Me. And I give them eternal life, and they shall never perish; neither shall anyone snatch them out of My hand. My Father, who has given them to Me, is greater than all; and no one is able to snatch them out of My Father's hand. I and My Father are one."
On Monday I set out to have lunch with a dear friend when suddenly I stopped in my tracks. There on the floor of the hallway of my condo was a set of false teeth! I just stood there and stared at them. Was I really seeing what I thought I was seeing? Yes, they were real genuine false teeth! (That's an oxymoron!)
So what's a lady to do at a time like that? My first thought was to just leave them there for the person who lost them. After all, someone would surely come looking for his teeth. But I couldn't leave them on the floor. Since a set of dentures is a terribly expensive thing to lose, I knew I needed to pick them up so they wouldn't be accidentally stepped on. Quickly I returned to my unit, grabbed a paper towel, and did the honorable thing by lifting them off the floor.
As I stood there in the middle of the hall holding these teeth, I wondered, "Now what do I do?" Should I start knocking on doors asking, "Excuse me, did you lose your teeth?" No, that didn't seem quite right. It occurred to me that I could just knock on doors and greet each neighbor with a broad smile. Then he or she would smile back and I could see if they had their teeth or not. Oh, that would take too long and I didn't have time for that.
Finally, I decided to simply lay the teeth on the table in the entry way so that whoever lost his teeth would wander by eventually and find them. It's the place where folks put lost and found items or things they are finished with and think that someone else might use. (Ugh! That's a thought that makes me shudder!)
Now I've lost a lot of things during my life—my keys, my glasses, my purse, my patience and my temper—but never my teeth. Losing something important is quite unsettling and certainly causes a lot of concern and frustration.
I'm so thankful there's one thing I can never lose and that's my eternal salvation. When Jesus Christ saved me from the penalty and power of sin, He sealed and secured the deal. I know each day as I walk with Him that I am safe within His hand and no one can snatch me from His grip! Now that's comfort and that's security.
When I returned home that evening, the teeth were gone. I suppose their rightful owner claimed them, but I'm still curious about who they belonged to. So you can be sure that as I talk to my neighbors now, I'll be checking out their teeth just to see if they look familiar!
Father in Heaven, thank You for the knowledge that I am resting safely and securely in Your hands each day. That's one thing I never have to worry about losing.
By Ann Shorb
©Copyright Ann Shorb, 2011
Scripture taken from the New King James Version. Copyright © 1982 by Thomas Nelson, Inc.  Used by permission.  All rights reserved.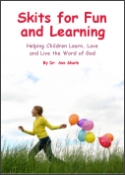 Skits for Fun and Learning
Skits for Fun and Learning is a collection of 15 puppet scripts and 5 articles on the subject of success with puppet ministries. The articles and scripts have been written by Dr. Ann Shorb and the book is available for purchase as a paperback, or as a PDF download.