JOHN 14:6 (NKJV)
"In My Father's house are many mansions . . . I go to prepare a place for you. And if I go and prepare a place for you, I will come again and receive you to Myself; that where I am, there you may be also.  And where I go you know, and the way you know."
Thomas said to Him, "Lord, we do not know where You are going, and how can we know the way?"
"Jesus said to him, "I am the way, the truth, and the life. No one comes to the Father except through Me."
It was a beautiful sunny morning when I headed out toward a local Christian school where I was to speak for their morning chapel service. I knew exactly where I was headed, and where I needed to be, but a missed turn took me a long distance out of my way. Getting back on track took some figuring out, but thanks to a good old-fashioned map, I charted the shortest way through back roads and made it to my destination on time. Without turning around and moving in the right direction, though, I would have missed my destination altogether.
Ironically, while finding the way back to my intended route, a large tractor trailer truck passed me. Big letters on the back of the rig said, "DESTINATION UNKNOWN." I laughed when I saw it. That's what I felt like when I was on the wrong road. Once I turned around, I knew where I was headed. This poor fellow didn't!
In talking with people, I find a lot of them have a destination in mind, but they don't know how to get there. When it comes to eternity, there are only two choices, Heaven or Hell. Nearly everyone wants to go to Heaven, but sadly many are traveling the wrong course to get there.
Jesus told His disciples He was leaving them to go back to His Father in Heaven. When Thomas asked how they could get there, too, the Lord told him, "I am the Way, the Truth, and the Life. No man comes to the Father except through Me." The disciples knew their intended destination, and Jesus told them how to get there. The directions for reaching Heaven haven't changed one bit since Jesus spoke those words so many years ago.
John 3:36
He who believes in the Son has everlasting life; and he who does not believe the Son shall not see life, but the wrath of God abides on him.
John 5:24
Most assuredly, I say to you, he who hears My word and believes in Him who sent Me has everlasting life, and shall not come into judgment, but has passed from death into life.
Once you've trusted Christ as your Savior your destination is fixed! You are bound for Heaven. Your eternal home is already prepared and waiting for you—and so is the Savior who so lovingly provided the means of reaching your Heavenly dwelling place with Him.
How about you, do you know your destination? Do you know how to get there? Are you trusting the Lord Jesus Christ to be your Way? If so, you can confidently say, "For me, it's destination known!"
Prayer: My hope is in You, Lord, for You alone are the Truth, the Way, and the Life.
Words to Ponder: "Oh! That beautiful city,
With its mansions of light,
With its glorified beings,
In garments of white;
Where no evil thing cometh
To despoil what is fair;
Where the angels are watching,
Yes, my name's written there.
–Mary A, Kidder, "Is My Name Written There?"
Related Articles:
By Ann Shorb
©Copyright, Ann Shorb, 2014
Scripture taken from the New King James Version. Copyright © 1982 by Thomas Nelson, Inc.  Used by permission.  All rights reserved.
FREE EASTER SKIT FOR CHILDREN OR FOR PUPPETS!
This simple skit, "The Resurrection Rock" is fun to use in Sunday School, Children's Church, or in family devotions.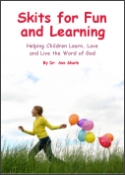 Skits for Fun and Learning
Skits for Fun and Learning is a collection of 15 puppet scripts and 5 articles on the subject of success with puppet ministries. The articles and scripts have been written by Dr. Ann Shorb and the book is available for purchase as a paperback, or as a PDF download.