PSALM 91:1-2
He that dwelleth in the secret place of the most High shall abide under the shadow of the Almighty.  I will say of the LORD, He is my refuge and my fortress: my God; in Him will I trust.
It's December here in Pennsylvania and roses are not supposed to be blooming, but mine is. One bush continues to bud and bloom even on these cold, dreary days. What's the secret? The bush is large and part of it has grown right up against the house.  Pressed tightly against our home it finds warmth and is sheltered from the cold and protected from the wind.
What a beautiful reminder that my place of refuge is pressed tightly to the Lord Jesus, my rock and my fortress. In Him alone I find shelter and protection from all the cares of life–the ache of disappointment, the sting of betrayal, the dread of physical limitations, and the fear of the future. No matter what threat comes near me or what adversity I face, close to Him I find hope and strength.  Close to Him I find rest and peace.
Knowing this motivates me to spend time in His Word, to listen for the voice of His Spirit as I pray, and to focus my thoughts and actions on living according to His direction so that my life shows forth His beauty and I bloom like the December rose.
Almighty God, let me draw close to You. May I rest in Your love and find warmth, shelter and protection from the cares and adversities of life so that I bloom with Your glory even on the coldest and darkest of days.
By Ann Shorb
©Copyright Ann Shorb, 2009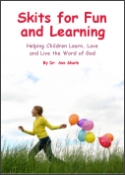 Skits for Fun and Learning
Skits for Fun and Learning is a collection of 15 puppet scripts and 5 articles on the subject of success with puppet ministries. The articles and scripts have been written by Dr. Ann Shorb and the book is available for purchase as a paperback, or as a PDF download.