ROMANS 8:28-29 (NKJV)
And we know that all things work together for good to those who love God, to those who are the called according to His purpose. For whom He foreknew, He also predestined to be conformed to the image of His Son, that He might be the firstborn among many brethren.
Yes, spring is here and with it come the rains and frequent storms. While I know these are a necessary part of life, they interrupt my day, and often bring a dreariness that makes it hard to be joyful.
So I wait for the storm to pass, but then I recall the little saying, "Life isn't about waiting for the storm to pass, it's about learning to dance in the rain."
As a child, dancing in spring rain was almost magical. Rain drops falling on my head and in my face brought laughter as youthful feelings of joy and exuberance drenched my soul. But all too often now I see the rain as an intrusion and an unwanted annoyance.
Sadly, that's how I often view the difficult and unsettling things that come into my life; however, of one thing I can be sure–my storm is never a surprise to God. Even before the clouds begin to gather, my loving Heavenly Father sees what I cannot catch sight of at that moment. Whatever He allows into my life is all a part of His plan and purpose, and as I rest in the comfort and security of His promises, my perspective changes. The storm is no longer an intrusion in my life, but rather an opportunity for God to shape and mold me more and more into the image of His Son, Jesus Christ.
So when the storm clouds gather, and the rain begins to fall, when lightning flashes around me and thunder rolls, in this I can be confident—He is in control! I can trust Him to work all things for good. I can rest in His promises. I can even dance in difficult times and let the joy of the Lord drench my soul for I know that all is well. Because of His faithfulness, His goodness, and His ever-abiding presence I can even learn to dance I the rain.
PRAYER: Loving Father, let me not fear the storms of life, but rather find joy and strength in allowing You to do Your wondrous work in my life.
WORDS TO PONDER: "Our confidence flows out of His steadfastness."
–Sheila Walsh, The Shelter of God's Promises
By Ann Shorb
©Copyright Ann Shorb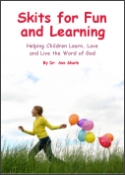 Skits for Fun and Learning
Skits for Fun and Learning is a collection of 15 puppet scripts and 5 articles on the subject of success with puppet ministries. The articles and scripts have been written by Dr. Ann Shorb and the book is available for purchase as a paperback, or as a PDF download.