I Thessalonians 5:16-18 (NKJV)
Rejoice always, pray without ceasing, in everything give thanks; for this is the will of God in Christ Jesus for you.
READ "HANGING ON TO THANKSGIVING" Nov. 28, 2015
So how did you do? Did you even give it a shot? Four weeks ago, I challenged you to join me in hanging on to the spirit of thankfulness as we moved from Thanksgiving to Christmas. I suggested expressing thanks to the Lord first thing in the morning for His blessings by singing that little chorus, "Thank You, Lord", by quoting a special verse, or by lifting up a prayer of gratitude. The goal was to develop the habit of starting the day with a grateful heart.
The little reminder card I put on my nightstand, and the sticky note on the bathroom mirror are both still in place. They certainly helped prompt me to start my day on that positive note. I have to admit, though, that sometimes when I woke up, my first thoughts went to my To-Do List, and from there my mind was off and running! It took intentional work for me to lay those thoughts aside and to draw my focus back to being grateful and expressing that appreciation to the Lord before doing anything else; however, the blessing that came from those few moments of acknowledging God's goodness and faithfulness was tremendous!
As we move into a new year, it is the perfect time to work on developing the habit of morning praise. So, if you haven't yet started on this project, why not give it a try? If you have been working on it, good for you! Keep going! Over time, you'll cultivate a thankful heart and an attitude of gratitude that will change the way to face each new day. And you'll be thankful that you did!
PRAYER: Gracious Lord, Your mercies are new every morning! Thank You for Your faithfulness.
WORDS TO PONDER: "'For this,' (that you should thus rejoice, pray, give thanks), 'is the will of God,' always good, always pointing at our salvation."
–John Wesley, How to Pray: The Best of John Wesley on Prayer
Copyright Ann Shorb, 2015
Scripture taken from the New King James Version. Copyright © 1982 by Thomas Nelson, Inc.  Used by permission.  All rights reserved.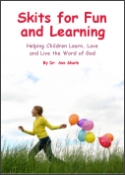 Skits for Fun and Learning
Skits for Fun and Learning is a collection of 15 puppet scripts and 5 articles on the subject of success with puppet ministries. The articles and scripts have been written by Dr. Ann Shorb and the book is available for purchase as a paperback, or as a PDF download.