JOHN 13:35 (KJV)
By this shall all men know that ye are my disciples, if ye have love one to another.
When we arrived, a thin, old man with a scruffy beard and a gentle-looking lady sat comfortably talking on the bench just outside the inn where we were staying for the weekend.  Their conversation was relaxed and easy; it was obvious they were old friends.  At the other end of the parking lot another group of people chatted quietly.  And when we made our way toward our room, the hall was literally lined with people obviously waiting for others to join them.  The ambiance was amazing.  Later we discovered that we were the only strangers in the mix—all the rest of these folks were in town for a family reunion.
What a family this was!  There was joy and laughter, good clean conversation, and lots and lots of love, even though it looked as if some of them had seen their share of troubles.
The next evening while looking for a cup of coffee, I accidentally walked in on the family preparing for supper.  I apologized for interrupting their get- together, and a friendly voice called out, "Oh, we're just having family-reunion leftovers for dinner."
"That sounds good!" I replied as I started out the door.
"Well, come on in and eat with us.  Come join the family!"
I politely declined the offer, but I honestly believe they would have welcomed me at their table, and I would have been blessed to be among them.
Dear Christian, when was the last time you were that warm and welcoming and inviting to someone outside of the family of God?  As children of the King, we have unlimited blessings to offer and eternity to share with the world around us.
Heavenly Father, help us as Your children to let the warmth of family love be evident to those who do not know You.  Remind us to be faithful in inviting others to come join the family.
By Ann Shorb
©Copyright Ann Shorb, 2010
Scripture taken from the New King James Version. Copyright © 1982 by Thomas Nelson, Inc.  Used by permission.  All rights reserved.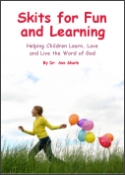 Skits for Fun and Learning
Skits for Fun and Learning is a collection of 15 puppet scripts and 5 articles on the subject of success with puppet ministries. The articles and scripts have been written by Dr. Ann Shorb and the book is available for purchase as a paperback, or as a PDF download.