Acts 17:24-25
The God who made the world and everything in it is the Lord of heaven and earth . . . He himself gives all men life and breath and everything else. (NIV)
I don't know who wrote the following story, but it holds a great truth for us all . . .
"A group of alumni, all highly established in their respective careers, got together for a visit with their old university professor.  The conversation soon turned to complaints about the endless stress of work and life in general.  Offering his guests coffee, the professor went into the kitchen and soon returned with a large pot of coffee and an eclectic assortment of cups: porcelain, plastic, glass, crystal, some plain, some expensive, some quite exquisite.  Quietly he told them to help themselves to some fresh coffee.
"When each of his former students had a cup of coffee in hand, the old professor quietly cleared his throat and began to patiently address the small gathering.  'You may have noticed that all of the nicer looking cups were taken up first, leaving behind the plainer and cheaper ones.  While it is only natural for you to want only the best for yourselves, it is actually the source of much of your stress-related problems.
He continued, 'Be assured that the cup itself adds no quality to the coffee.  In fact, the cup merely disguises or dresses up what we drink.  What each of you really wanted was coffee, not a cup, yet you instinctively went for the best one.  Then you began eyeing each other's cups.
"Now consider this: Life is the coffee and jobs, money, and position in society are merely cups.  They are just tools to shape and contain life.  The type of cup we have does not truly define nor change the quality of the life we live.  Often, by concentrating only on the cup, we fail to enjoy the coffee that God has provided for us.  You see, God brews the coffee, but He does not supply the cups.  Those choices are up to us.  Enjoy your coffee!' "
–Author Unknown
Heavenly Father, help me to always be mindful of the fact that You have given me life and what I make of it is up to me.  Help me to make choices that will lead to fulfilling the purpose you for which you have designed me, but let me never get caught up in things that would detract from enjoying life with You.
©Copyright Ann Shorb, 2008
*Scripture taken from The HOLY BIBLE, NEW INTERNATIONAL VERSION ®. Copyright © 1973, 1978, 1984 by the International Bible Society.  Used by permission of Zondervan.  All rights reserved.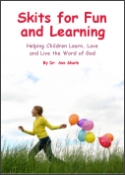 Skits for Fun and Learning
Skits for Fun and Learning is a collection of 15 puppet scripts and 5 articles on the subject of success with puppet ministries. The articles and scripts have been written by Dr. Ann Shorb and the book is available for purchase as a paperback, or as a PDF download.