JOHN 13:34 (KJV)
A new commandment I give unto you, That ye love one another; as I have loved you, that ye also love one another.
Reading through the gospels, I'm constantly amazed at the simplicity of the teachings of Christ. His words were simple, straightforward, and right to the heart of the issue every time. For example, He summed up The Old Testament Law with the words, "Love the Lord your God with all your heart, and soul, and strength, and mind. And love your neighbor as you love yourself." (Luke 10:27) In that same simple manner, He instructed His followers, "If you love me, keep my commandments." (John 14:15)
Just after the last supper with His disciples, the great Master washed their feet, identified the one who would betray Him, and then gave His fellow servants one last order as he spoke His parting words to them before being arrested, tried, and crucified. On that night, He gave them a new commandment: "Love one another; as I have loved you, that you also love one another." (John 13:34) There it was, plain and simple—"Love each other."
Oh, wait! That isn't the end of that command. Jesus said, "Love each other as I have loved you." Now that's a different story! His love is strong, forgiving, sacrificial, always available, unselfish, unconditional, and unending. How can I possibly love another person in that way—especially one who annoys or hurts me? Although the words of Jesus were direct and succinct, I just don't have the power to love others like He did. And what is worse, sometimes I don't even want to!
That's the truth. In my humanness, I don't have it in me; however, with the Spirit of Christ living in me, I can keep His commandment to love others—even those who annoy or hurt me. As I surrender my desires, my thoughts, and my stubborn will to the control of His Holy Spirit, then I am not only able to love others, but I am actually constrained to love them. (Romans 5:14) In other words, I just can't keep from it! Christ helps me love even the unlovely.
What a difference there is in my attitude and my actions when I step back and truly let the Spirit of God take control of my body, soul, and spirit! I don't have to struggle, fret, or find a book to give me 50 ways to love others. When the Spirit of God takes over, His love comes shining through what I say and what I do. With purity and simplicity, It just happens that way!
Lord Jesus, thank You for not only giving me the command to love others as You do, because I know it produces good results, but also for giving me a Helper who truly enables me to do what I cannot do by myself.
By Ann Shorb
Copyright Ann Shorb, 2012
Scripture taken from the King James Version of The Holy Bible.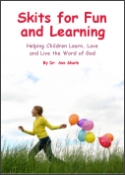 Skits for Fun and Learning
Skits for Fun and Learning is a collection of 15 puppet scripts and 5 articles on the subject of success with puppet ministries. The articles and scripts have been written by Dr. Ann Shorb and the book is available for purchase as a paperback, or as a PDF download.