Proverbs 22:6
Train up a child in the way he should go; and when he is old, he will not depart from it.
November 12-18 is Children's Book Week. It's a time set aside to encourage children in the enjoyment of reading. As a former elementary school teacher, I know the value of teaching a youngster to read, and the challenges that sometimes go with it. For years I've said, "If you teach a child to read, you equip him for life."
Reading is something that we take for granted in our country because public education offers it to everyone; however in many countries that's not true. At this Thanksgiving season, let's stop and thank God for this precious gift. Let's offer Him praise for the many resources and materials we have available to us. Let's take advantage of this time to encourage our young people to develop and enjoy the ability to read, and let's provide them wholesome materials to enjoy and to bolster their faith in God.
Sadly, not all books teach truth. Rod Hemphill has provided us with an important warning about an upcoming movie that is based on a children's book series where the children kill God. Please take time to look at this article and to pass it on to others.
Yes, reading is one of the most essential skills a person can have. It opens doors to learn from and to enjoy everything from a sports magazine, to a cookbook, and most importantly to life's Guidebook – the Bible.
Father, I'm so grateful that You gave me the opportunity and the ability to learn to read. Help me to treasure this gift always, and to encourage the children around me to develop a love for reading and for learning Your Word.
By Ann Shorb
Copyright Ann Shorb 2007
---
The Golden Compass: A Warning for Parents
By Rod Hemphill
If you take small children to the movies, you should know about this!
THE GOLDEN COMPASS, a new movie targeted at children, will be released December 7, 2007. This movie is based on the first book of a trilogy by atheist Philip Pullman. In the final book, a boy and girl kill God so they can do as they please. Pullman left little doubt about his intentions when he said in a 2003 interview that "My books are about killing God."
The movie is a watered down version of the first book and is designed to be very attractive in the hope that unsuspecting parents will take their children to see the movie and that the children will want the books for Christmas. . . Read the rest of Rod's article.
This article is also available as a PDF for easier printing and sharing with others.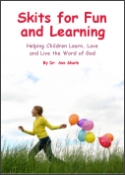 Skits for Fun and Learning
Skits for Fun and Learning is a collection of 15 puppet scripts and 5 articles on the subject of success with puppet ministries. The articles and scripts have been written by Dr. Ann Shorb and the book is available for purchase as a paperback, or as a PDF download.