PSALMS 51:6
Thou desirest truth in the inward parts.
As counselors, we see people nearly every day who are looking for some type of change in their lives. In studying the Scriptures, we find that there are five elements necessary for complete healing and change. These are woven throughout the text of nearly every chapter of The Search for Significance, my favorite book next to the Bible. Author Robert McGee stresses that all five ingredients are absolutely essential for lasting change and complete emotional and spiritual healing to occur. Those elements are:
1. Honesty with God, with others and with yourself
Behold, thou desirest truth in the inward parts: and in the hidden part thou shalt make me to know wisdom, (Psalm 51:6).
2. Affirming relationships
Brethren, if a man be overtaken in a fault, ye which are spiritual, restore such a one in the spirit of meekness; considering thyself, lest thou also be tempted. Bear ye one another's burdens, and so fulfill the law of Christ, (Galatians 6:1-2).
3. Right thinking based on the truth of God's Word
All scripture is given by inspiration of God, and is profitable for doctrine, for reproof, for correction, for instruction in righteousness: That the man of God may be perfect (mature), thoroughly furnished unto all good works, (II Timothy 3:16-17).
4. Direction and power of the Holy Spirit
When He, the Spirit of truth, is come, he will guide you into all truth . . . (John 16:13).
5. Time – It's a process!
Not as though I had already attained, either were already perfect: but I follow after, if that I may apprehend that for which also I am apprehended of Christ Jesus. Brethren, I count not myself to have apprehended: but this one thing I do, forgetting those things which are behind, and reaching forth unto those things which are before, I press toward the mark for the prize of the high-calling of God in Christ Jesus, (Philippians 3:12-14).
While all five of these are important, until you are first honest in recognizing and admitting that you have a problem, there can be no real growth, nor healing at all. Ask God to make you aware of anything that needs to be changed at this point in your life. Be honest with yourself about what He shows you. Admit that there's a problem and be honest about your need for His help and direction. Then find someone to be accountable to and to pray with. Be completely honest with him/her. Honesty with God, with others and with yourself is the first step in being all that you can be for Him!
Father, help me to be totally honest about the problems I face and the pain that I feel at times. Do Your healing work in my life so that I may break free of sinful and unhealthy thoughts and behaviors that keep me from living for You completely.
By Ann Shorb
©Copyright Ann Shorb, 2008
FREE DOWNLOAD! To have a copy of "The Five Elements for Change and Healing"  for your personal or classroom use, download it here.
The Search for Significance: Getting a Glimpse of Your True Worth Through God's Eyes (Revised)

By Robert S. McGee / Thomas Nelson

Now updated! Join the millions who've benefited from the classic that Billy Graham said "should be read by every Christian." Learn how to see your worth through God's eyes, step off the "performance treadmill," and discover, through insightful self-inventory exercises, how four false beliefs have kept you from the joy of abundant life in Christ. 352 pages, softcover from Nelson.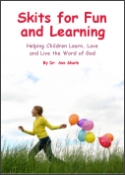 Skits for Fun and Learning
Skits for Fun and Learning is a collection of 15 puppet scripts and 5 articles on the subject of success with puppet ministries. The articles and scripts have been written by Dr. Ann Shorb and the book is available for purchase as a paperback, or as a PDF download.