Psalm 34:3
O magnify the Lord with me, and let us exalt His name together.
Let's face it, I'm one of those sloppy sentimentalists and anniversary dates are always a big deal for me. This being the second anniversary since our first edition of A Light For My Path went out, I'm thinking back over these two years and rejoicing in what God has done. So will you praise the Lord with me? Will you thank Him for the technology that makes it possible for me to sit in southern Pennsylvania and type out a few paragraphs, and then send them all around the world? Will you praise the Lord for the faithful work of Marc, our webmaster, who sets it all up and does the actual sending and keeping records? Will you rejoice that each week we get wonderful feedback from our readers who express their appreciation for these devotionals?
On the last Sunday in 2006 and in 2007 I encouraged you to prayerfully claim a specific promise from God's Word to hang on to throughout the coming new year. (Read Hang On to the Promises!) Here's a heart warming story that came from one reader . . .
"I remember last year when you challenged us to focus on a promise from God for the year. I was overwhelmed and could not even think of a promise. I finally settled on the promise that God loves me, though not fully believing it.

"All through the year when I was reading through the Bible, I underlined verses that were meaningful to me. For the past couple of years I have read through the Bible, but I knew this year I really needed to study parts of it. I felt God telling me that I needed to return to all of those passages that I had underlined. What a week last week was! For the first time ever, I really feel a connection with God; like when I review those verses, He is actually talking to me and I know which ones He wants me to focus on for that day. I'll read through a few and know which one to stop at for a study. The ones that I keep going back to are Genesis 28:15, "I am with you and will watch over you wherever you go . . . I will not leave you until I have done what I have promised you," and Genesis 35:3, "God has been with me wherever I have gone." These are the verses that I have chosen to claim as mine for this year to see all of the ways that God is really with me.

"And then last week I got your devotional with Exodus 33:14 — I love it when God brings things together like that! My prayer for this year is to learn to trust God so that I can learn to love Him. Again, thanks for putting together the devotionals. I'm not sure when I would have really studied God's Word for my life if you had not made the challenge last year. God uses you in so many different ways!"
Lord, we rejoice in Your goodness and Your interest in using even little things we do that bless others. Thank you for these two years of serving You through this simple ministry.
By Ann Shorb
Copyright Ann Shorb, 2008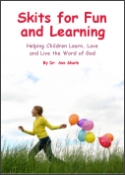 Skits for Fun and Learning
Skits for Fun and Learning is a collection of 15 puppet scripts and 5 articles on the subject of success with puppet ministries. The articles and scripts have been written by Dr. Ann Shorb and the book is available for purchase as a paperback, or as a PDF download.