MATTHEW 5:43-44 (NKJV)
Therefore you also be ready, for the Son of Man is coming at an hour you do not expect.
The Weather Channel is broadcasting news of a major winter storm. Television meteorologists, radio announcers, and newspapers all proclaim it, and on-line sources confirm that this is a storm of historic proportions as snow coupled with high winds marches through the Mid-Atlantic region of the U.S.A. Residents are stocking their cupboards with groceries and necessary items to hold them over while they can't get out. Snow shovels and blowers are at hand, and the snow plows and salt trucks are ready to roll. Right now folks in the area are consumed with preparing for what's ahead for the next few days, and the question everyone is asking is, "Are you ready?" That's a question each one of us needs to answer every day as we face the future.
If your life should end suddenly, are you ready? Do you know the Lord and have you placed your faith and trust in Him to be your Savior? Are you ready to face eternity with hope and joy?
If you are, are you ready to live for Him today? Have you taken time to drink in the wisdom of His Word, and to fellowship with Him through prayer and meditation?
Are you ready to share His love with those you come in contact with today? Is your heart open to seeing the needs of others and helping them to find their way to Christ? Are you prepared to lend a hand when help is needed, or to stand by a friend who is sorrowing?
Are you ready to face a major storm in your own life? Do you know His power and comfort is ready to sustain you?
Whether it's a storm or a great opportunity, the time to prepare is before it arrives. Eventually, there will be no more time to put things in order, so the time to prepare is now.
PRAYER: Almighty Father, I seek Your wisdom and direction for today so that I may prepare for the things You allow to come my way. By Your grace, and with Your power and direction, help me to be ready.
RELATED ARTICLES:
Read Essential Topics of Knowing God at http://www.ccesonline.com/articles.htm.
By Ann Shorb, ©Copyright Ann Shorb, 2014
Scripture taken from the New King James Version. Copyright © 1982 by Thomas Nelson, Inc.  Used by permission.  All rights reserved.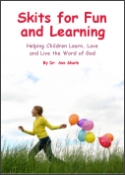 Skits for Fun and Learning
Skits for Fun and Learning is a collection of 15 puppet scripts and 5 articles on the subject of success with puppet ministries. The articles and scripts have been written by Dr. Ann Shorb and the book is available for purchase as a paperback, or as a PDF download.