Read Blessed be the Name Part 1
PSALM 34:1-3 (NKJV)
I will bless the Lord at all times;
His praise shall continually be in my mouth.
My soul shall make its boast in the Lord;
The humble shall hear of it and be glad.
Oh, magnify the Lord with me,
And let us exalt His name together.
King David made it a habit to praise and bless the name of the Lord! On good days and on bad days, he knew that true peace, joy, comfort, and strength can be found by lifting high the name of God our Savior.
In the beloved words of Psalm 23, David refers to the Lord as My Shepherd, gently and faithfully caring for His sheep. In Psalm 144:1, He is the Rock, and in Psalm 72 David calls Him King.
David wasn't the only one who developed the habit of praising the Lord. When the Apostle Paul and Silas, his fellow missionary, found themselves sitting in the hopelessness of a Philippian jail, their hearts did not despair. Instead, Acts 16:25 records, "But at midnight Paul and Silas were praying and singing hymns to God, and the prisoners were listening to them." That's incredible! And as a result, the jailer and his whole family turned to Christ!
So why should we honor and praise the name of the Lord?
Bless the Lord because He is faithful and worthy of praise.
Bless the Lord because it glorifies and blesses Him.
Bless the Lord because it causes us to rehearse and remember His goodness to us, and in turn, it blesses us.
And bless the Lord because others are listening!
Praising God is a way of testifying to others of His greatness and His love. Some of those who hear your praise may already know Him as Savior and King, but others may be hearing this message for the first time and your words may be the thing that points them to Him. Now, that's something to consider!
PRAYER: Lord, use my praise for You to point others to Christ and His wonderful gift of salvation.
RELATED HYMNS & DEVOTIONALS:
By Ann Shorb
Copyright Ann Shorb, 2014
Scripture taken from the New King James Version. Copyright © 1982 by Thomas Nelson, Inc.  Used by permission.  All rights reserved.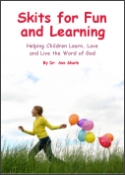 Skits for Fun and Learning
Skits for Fun and Learning is a collection of 15 puppet scripts and 5 articles on the subject of success with puppet ministries. The articles and scripts have been written by Dr. Ann Shorb and the book is available for purchase as a paperback, or as a PDF download.