LUKE 2:49 (NKJV)
And He said to them, "Why did you seek Me? Did you not know that I must be about My Father's business?"
Practicing good time management means being intentionally selective about the things you do. Ultimately, the way you make choices about what you do is based on your thoughts and core beliefs about God, your world, and yourself. These are what truly drive your actions. So, if you want to change your actions and set your priorities accordingly, you really need ask yourself, "What do I believe is God's plan for my life? What is my purpose and how does He want me to fulfill it?"
Thankfully, we have the Lord Jesus Christ as an example to follow. As Messiah, Christ was the God-Man on a mission! His coming was intentional, His ministry was intentional, and His death, burial and resurrection were intentional. It was all part of God's plan foretold by the prophet Isaiah. As Christ began His public ministry, He announced to those in the synagogue who heard Him read the prophet's words, "Today this Scripture is fulfilled in your hearing" (Isaiah 61:1-2, Luke 4:16-22). He knew from the start what He was to do.
Trace His life through the Gospels and you will see that He lived selectively with one focus in mind—fulfilling the Father's plan. Is it really so farfetched to think that we can do the same? Actually, no, it isn't. But it does take deliberate focus on our part and dedicated time spent with the Lord to discover His plan for us individually. Once we know that, it's easy to sift from our schedule things that would distract us from fulfilling our calling and purpose.
A good place to start is by reading Psalm 19 seeing God as Creator of all things—including your time. Read through this passage every day for a week using verse 14 as your prayer. Let your focus be on finding what is His acceptable will for your life.
PRAYER: Precious Savior, show me the way so that I may walk in it.
WORDS TO PONDER: "Because I control my time and answer to God for its wise use, I take responsibility for the choices I make. I must continually sort the opportunities available to me and sift out those which do not fit into the life plan God has shown me."
–Ruth Wagner Miller, The Time Minder
RELATED DEVOTIONAL: Only Just a Minute
by Ann Shorb
© Ann Shorb
Scripture taken from the New King James Version. Copyright © 1982 by Thomas Nelson, Inc.  Used by permission.  All rights reserved.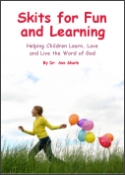 Skits for Fun and Learning
Skits for Fun and Learning is a collection of 15 puppet scripts and 5 articles on the subject of success with puppet ministries. The articles and scripts have been written by Dr. Ann Shorb and the book is available for purchase as a paperback, or as a PDF download.