Hebrews 12:11
No discipline seems pleasant at the time, but painful. Later on, however, it produces a harvest of righteousness and peace for those who have been trained by it.
Romans 8:18 NIV
I consider that our present sufferings are not worth comparing with the glory that will be revealed in us.
As I looked around at the trees and beauties of spring, I realized that I needed an adjustment to the lenses in my glasses. Things just weren't as clear as they used to be, so I made an appointment with the eye doctor. I didn't realize how out of focus my vision was until the doctor tried various lenses, and suddenly things became bright and clear again! So now I'm in the process of picking out frames and finding what fits best so I can enjoy renewed visual clarity every day.
From time to time, I realize my mental and emotional perspectives are out of focus. I get so caught up in fear, frustration, and confusion that I dwell only on the trials and struggles God allows in my life. That's when I need an adjustment in thinking to help me see past the present moment to the overall good my loving Heavenly Father is doing in my life, and in the lives of all those who believe in Him. I need to be more farsighted.
Author Jerry Bridges puts it this way, "We see from Hebrews 12:11 that our present hardships are indeed painful, and we all know this to some degree from experience. But we need to learn to look by faith beyond the present pain to the eternal glory that will be revealed in us."
It's easy to fix our attention on the here and now in this crazy world, and be overcome with grief, fear, sadness, and even hopelessness at times, yet that is not what God wants for us. He longs for us to change our outlook and delight in His love and dwell in joy, peace, and hope as He develops His character in us, making us more and more like His Son, Jesus Christ.
You know, as long as I wear my new glasses, I'll have no problem seeing and functioning, but when I take them off, my vision will be fuzzy and unclear. That surely will remind me to pick them up and put them on again.
And as long as I keep God's Word and His promises in my thinking, I have no problem getting along, but when I put off His perspective, I find myself dwelling on the negative. It is then that I must remind myself to pick up His promises and cling to them, remembering that He has a plan and a purpose in all that happens to me. I simply need to be more farsighted
PRAYER: Precious Lord, Your Word and Your promises give me a view of a glorious future, and peace and hope for today. Thank You for the reassurance that is all a part of Your plan.
WORDS TO PONDER: "The God who disciplines us will also glorify us."'
–Jerry Bridges, Author
By Ann Shorb
Copyright Ann Shorb, 2015
Scripture taken from the Holy Bible New International Version. Copyright 1973, 1978, 1984, by the International Bible Society. Used by permission of Zondervan. All rights reserved.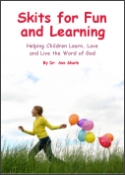 Skits for Fun and Learning
Skits for Fun and Learning is a collection of 15 puppet scripts and 5 articles on the subject of success with puppet ministries. The articles and scripts have been written by Dr. Ann Shorb and the book is available for purchase as a paperback, or as a PDF download.