PSALM 46:10
Be still and know that I am God . . .
"Be still!"  I remember my mother directing me with these words when I wanted to talk at the wrong time, when others were talking, or when I was making too much noise. She also used those words when my wiggling and squirming were distracting me and others around me. Often I was just too busy chattering and making noise to hear important instructions or necessary information. She knew in that moment that it was good for me to be still.
My loving Heavenly Father also tells me, "Be still", because in those quiet moments that I can truly hear from Him. I want to be still and listen to God, but it's so hard in this noisy, busy, chaotic world. I can get alone and shut the door, turn off the computer, T.V., CD player, I-pod, radio and telephone, but the thing I often can't shut off is my mind!  Things to do, places to go, and people to see swirl through my thoughts and just won't let me focus on anything else. So what can I do?
Over time I've developed a little routine that works for me. First I get alone and shut off all the other distractions. Then I just sit and take a few slow deep breaths to slow down my mind and body, and I prayerfully ask the Holy Spirit to take away other thoughts for the moment. After that, I like to sing a hymn of worship and praise, or read a poem to begin to focus my attention.  As I pick up my Bible or study book, I ask the Lord to speak to me through His Word or through that still small voice as I pray. Most of the time these things really do quiet my spirit so that I can hear from God, but there are days when things I must remember keep popping into my head distracting me. When that's the case, I grab the tablet next to my bed and jot them down, then immediately go back to my reading and prayer. Some days I actually take a few minutes to do this before I even start my quiet time with God.
It's so easy to just grab a devotional book and read a short passage, shut the book and then be on my way. The problem is that I usually don't focus long enough to even remember what I have read when I when I do that. So if I truly want to hear from God, I have to take the time, invest the energy, and discipline myself to be still.
Perhaps you have found ways of having a daily quiet time that are effective for you. I'd love to hear from you, so take a moment to jot a note and let me know about it.  You can send your message to annshorb@ccesonline.com.  I look forward to hearing from you!
Loving Heavenly Father, I know that You want to speak to me. Help me to learn to be still and to listen attentively to Your voice.
By Ann Shorb
© Copyright Ann Shorb, 2009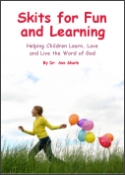 Skits for Fun and Learning
Skits for Fun and Learning is a collection of 15 puppet scripts and 5 articles on the subject of success with puppet ministries. The articles and scripts have been written by Dr. Ann Shorb and the book is available for purchase as a paperback, or as a PDF download.