I CHRONICLES 16:11 (KJV)
Seek the LORD and his strength, seek his face continually.
Ten years. Can it possibly be that long since that fateful day when terrorists struck the Twin Towers and, as they fell, so did our American sense of invulnerability? We were so sure up to that point that it could never happen on our own soil–but it did, and we were shaken to the core. The date, the events, the heartbreak, the terror are all etched in our memories and in the history books forever.
As we mark this tenth anniversary we must ask ourselves, "What have we learned? How are we different today than we were ten years ago?" While our individual answers to those questions vary, that day brought us all to the reality that we are only one breath away from eternity. We need to be prepared daily. But how do we do that?
Come to Christ. Foundationally, you must secure your relationship to the Lord Jesus Christ by coming to Him for salvation. Admit that you are unable to save yourself from the penalty and power of sin and look to Him to forgive and redeem you. (4 Things God Wants You to Know)
Know Him. Develop your relationship with Him as you would any other relationship. Spend time getting to know Him. That means daily spending time reading the Bible to learn of Him, His instruction, His direction and His promises. In addition, take advantage of the myriad of good Christian books to help you understand and apply His principles to daily living. (See the Recommended Reading section on our website.)
Talk to Him. As you let God speak to you, make sure that you speak to Him as well. Don't be afraid to pour out your heart to Him. Tell Him your hopes and dreams, your disappointments and fears, and your joys. In this busy world, if you don't set aside time for daily reading and prayer, it won't happen. Make spending time with God a priority.
Worship Him for who He is and what He does for you day after day.
Live for Him. Seek not only to know His will but to DO it each day by making right choices. Someone has said, "The way to live a godly life is to always do the next right thing." It's that simple.
Serve Him. Enjoy the fellowship of other Christian people and be involved in your local church, but don't limit yourself to that. Get out and know your community. Share God's love and message with them by being friendly and helpful. Let them see Christ through you.
Being prepared to face eternity is not about trying to follow all the rules or to be perfect. It's about having a heart to know God and to follow Him. It means daily looking to Him to guide and direct your steps and living according to His Word. If you end each day knowing that you are in right relationship with God and that you have, to the best of your ability, followed His direction for that day, then you will be ready to face eternity at any moment.
Lord, I recall the tragic events of September 11, 2001 and how quickly thousands of lives ended and other lives were altered forever. Let me live each day focused on knowing and living for You so that I am ready to face what the next moment brings.
By Ann Shorb
©Copyright Ann Shorb, 2011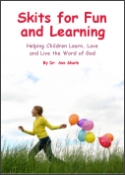 Skits for Fun and Learning
Skits for Fun and Learning is a collection of 15 puppet scripts and 5 articles on the subject of success with puppet ministries. The articles and scripts have been written by Dr. Ann Shorb and the book is available for purchase as a paperback, or as a PDF download.