PSALM 138:3 (NKJV)
In the day when I cried out, You answered me,
And made me bold with strength in my soul.
The little boy's mommy was busy talking with one of our counselors as he played quietly in the next room where I was cleaning out a cupboard. Suddenly he stood up and announced, "I have to go potty."
"OK," I replied. "Do you need any help?"
"No, I can do it myself." That was a typical four-year old response, and he went into the bathroom and closed the door.
A few minutes later the door opened and the little guy shuffled out with his pants down around his ankles. Sweet innocence mixed with exasperation as he shook his head and said, "I have to hop up on the potty—and I can't hop that high!"
So I took a moment to help him do what he couldn't do for himself in that situation. My strength was just what he needed, and I'm glad I was there to help.
I went back to my task chuckling to myself at how cute the little boy was. Then it hit me—Sometimes I'm just like that little fellow . . . and it's not so cute! I know what I need to do, and I may even talk to the Lord about it, but then I figure that I can do it on my own. When my efforts and attempts fail, I turn to Him and admit, "I can't hop that high!" I'm so grateful that in those moments rather than tell me, "I told you so," or "Too bad. You had your chance and I'm not willing to help you now," my loving Heavenly Father comes to my rescue and does for me what I can't do for myself. Instead I have the assurance of I Peter 5:6-7: "Therefore humble yourselves under the mighty hand of God, that He may exalt you in due time, casting all your care upon Him, for He cares for you." (NKJV)
Lord, what a vivid reminder you put in front of me the other day! Help me to remember that no matter what I face, You're always available and willing to help me if I will only humble myself and call on You.
By Ann Shorb
©Copyright 2011, Ann Shorb
Scripture taken from the New King James Version. Copyright © 1982 by Thomas Nelson, Inc.  Used by permission.  All rights reserved.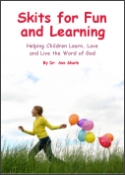 Skits for Fun and Learning
Skits for Fun and Learning is a collection of 15 puppet scripts and 5 articles on the subject of success with puppet ministries. The articles and scripts have been written by Dr. Ann Shorb and the book is available for purchase as a paperback, or as a PDF download.