I PETER 1:24-25 (NKJV)
"All flesh is as grass,
And all the glory of man as the flower of the grass.
The grass withers,
And its flower falls away,
But the word of the Lord endures forever."
Now this is the word which by the gospel was preached to you.
Nearly every day new words crop up in the English language. Words like "deskorations" (small decorative items that are used to brighten a work cubicle) and "stresscalation" (when stress from one individual mounts up and passes on to others) are formed to describe new situations and items. And as surely as new words are created, old words are retired by less and less frequent use when they are no longer needed. As life changes, items become a thing of the past, and the words that name and describe them become antiquated. When was the last time you talked about your record player or a juke box? Words come and go according to their functionality.
Words also vary from area to area. Those frequently used and spoken in one area may be of no use in another. Although words vary from area to area, from era to era, from people to people, there is one set of divine, inspired words that never changes—The Word of God. The message it brings to us never changes.
ALL HAVE SINNED AND COME SHORT OF THE GLORY OF GOD.
GOD LOVES YOU!
JESUS SAVES!
WHOSOEVER CALLS ON THE NAME OF THE LORD SHALL BE SAVED.
Although these words were written thousands of years ago, they remain as powerful as the day they were penned. God's Word is ancient, old, and well used, but it stands the tests of time. It is not antiquated, out of date, irrelevant, nor obsolete. And the need for the Word of God will never diminish, never go out of style, nor ever expire because the needs of the human heart never change.
God's Word is ancient but not antiquated. We do not need to replace it; we simply need to study it, to learn it, and to live it.
Prayer: Lord, thank You for the eternal truth and power of Your Word.
Words to Ponder: "God has preserved His Word despite the unintentional failings and intentional attacks of human beings. We can have utmost confidence that the Bible we have today is the same Bible that was originally written. The Bible is God's Word, and we can trust it (2 Timothy 3:16; Matthew 5:18)."
–from Got Questions.Org
By Ann Shorb
©Copyright, Ann Shorb, 2013
Scripture taken from the New King James Version. Copyright © 1982 by Thomas Nelson, Inc.  Used by permission.  All rights reserved.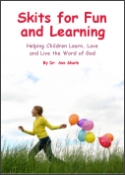 Skits for Fun and Learning
Skits for Fun and Learning is a collection of 15 puppet scripts and 5 articles on the subject of success with puppet ministries. The articles and scripts have been written by Dr. Ann Shorb and the book is available for purchase as a paperback, or as a PDF download.