PHILLIPIANS
I press toward the mark . . .
1 CORINTHIANS 9:25 (NKJV)
And everyone who competes for the prize is temperate in all things. Now they do it to obtain a perishable crown, but we for an imperishable crown.
The XXII Olympic Games are in progress! Throughout the Olympic Village excitement runs high, and adrenaline pumps the athletes into action performing feats that most of us never even aspire to. There are cheers, laughter, joy, and gladness; but for many more there are tears, disappointment, heartache, and feelings of failure as athletes from around the world compete for medals of bronze, silver, and the greatly-coveted gold.
These events not only entertain, amaze and amuse us, but most importantly, they inspire us. Athletes of this caliber arrive for the competitions bringing with them years of commitment, sacrifice, determination, and persistence. There is no other way to taste this moment. There are no shortcuts.
In an interview after the opening ceremony, one athlete said of that spectacular introduction to the 2014 Olympics in Sochi, Russia, "This is what we live for."
While certainly a worthy goal, the glory of the Olympics is only temporary. Moments pass, glory fades, fame dwindles, and medals become wall decorations. And at the end of life, when the athlete steps from this world into the next, all of that is left behind.
In ancient Greece, victorious athletes were awarded a crown of leaves which quickly faded, yet they willingly trained and disciplined themselves to receive such an honor. The Apostle Paul commented that while their reward was perishable, the reward promised to faithful, committed believers was an imperishable crown.
Blessed be the God and Father of our Lord Jesus Christ, who according to His abundant mercy has begotten us again to a living hope through the resurrection of Jesus Christ from the dead,  to an inheritance incorruptible and undefiled and that does not fade away, reserved in heaven for you,  who are kept by the power of God through faith for salvation ready to be revealed in the last time. (1 Peter 1:3-5, NKJV)
What a promise! With such a great reward awaiting us, dare we, children of Almighty God, give less than our best for our Master? Can we rightfully hold back our commitment to Him and His kingdom? Dare we give less than our best to the cause of Lord?
PRAYER: Father, give us commitment, determination, and persistence as we live for you day by day.
By Ann Shorb
©Copyright Ann Shorb, 2014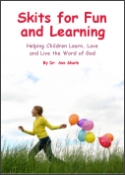 Skits for Fun and Learning
Skits for Fun and Learning is a collection of 15 puppet scripts and 5 articles on the subject of success with puppet ministries. The articles and scripts have been written by Dr. Ann Shorb and the book is available for purchase as a paperback, or as a PDF download.