EPHESIANS 2:8 (NKJV)
"For by grace you have been saved through faith, and that not of yourselves; it is the gift of God, not of works, lest anyone should boast."
It's only a few weeks until a new baby arrives in our family, and I get the happy privilege of staying with the big sister while Mom and Dad are at the hospital for that grand event. It's only natural that I get more familiar with her bedtime routine so I can keep things as normal as possible when that time comes. So the other night, I walked through all the steps as Mommy and Daddy gave lots of hugs and kisses, a Bible story, and prayer. Then my daughter-in-law and little Kylie sweetly sang a few songs, and ended the day with the beautiful words of John Newton . . .
"Amazing grace! How sweet the sound – that saved a wretch like me!
I once was lost but now am found, was blind but now I see."
My mind immediately flew back through decades to when I was a child sitting by my grandfather's bed hearing him sing those same words. He was bedridden for the last years of his life, yet the sweetness of God's grace was always in his heart and on his lips.
The message of that song passed down through generations in my family, and it's thrilling to see my children passing it to their children. The most beautiful part is knowing that the grace of God is still as alive as it was when my grandfather sang those awesome words . . . when my mother taught them to me . . . when I passed them to my children. Yes, God's amazing grace is enough to save us from the punishment of sin and birth us into the family of God. It suffices to help us overcome the power of sin and to guide us into all truth as we seek to become more conformed to the image of Christ. And that same grace will eventually save us from the presence of sin when we dwell with Him in eternal glory.
God's amazing grace is the same yesterday, today, and forever because it's the grace of the unchanging Lord Jesus Christ—and it is sufficient for all people, for all times.
Prayer: Beloved Father, Your grace is truly amazing! What joy it brings to my heart as I witness it's sufficiency through five generations.
Words to Ponder: "The song is just one person's experience, but in language that is so honest and truthful that everybody—millions of people for 260 years—have been moved by this song and felt like it was about them. It's a song about all of us."
–Lari White, Singer
Related Devotionals:
By Ann Shorb
©Copyright, Ann Shorb, 2015
Scripture taken from the New King James Version. Copyright © 1982 by Thomas Nelson, Inc.  Used by permission.  All rights reserved.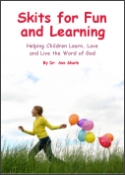 Skits for Fun and Learning
Skits for Fun and Learning is a collection of 15 puppet scripts and 5 articles on the subject of success with puppet ministries. The articles and scripts have been written by Dr. Ann Shorb and the book is available for purchase as a paperback, or as a PDF download.