ISAIAH 43:16, 18-19 (NKJV)
Thus says the LORD . . . "Do not remember the former things,
Nor consider the things of old.
Behold, I will do a new thing.
Now it shall spring forth;
Shall you not know it?
I will even make a road in the wilderness leg
And rivers in the desert.
Almost there! It was a Thursday morning and I was on the final leg of my journey to see my family in the mid-west. The land was flat and the road was straight. As far as my eyes could see, in all directions, thousands of acres of ripening wheat, verdant soy beans, and corn taller than usual for this time of year stretched before me. A wide expanse of bright blue sky capped the scene making it almost Paradise.
On Sunday morning, we traveled down that same road on our way to church, but the scene was vastly different. A severe storm passed through that area Friday night with what seemed like unceasing thunder, intense lightening, high winds, and golf-ball-size hail. The once lush, green, farm land was damaged, distressed, and in some places, totally destroyed. The devastation was heartbreaking, yet although there were tremendous losses and the situation looked bleak, resilient farmers will, in time, clear that land and plant again. New growth will take place. It won't always look this bad.
Storms aren't limited to earthly terrain. Trauma can hit any area of life at any time. The sudden death of a loved one, loss of a job, financial ruin, divorce, mental or physical illness, and other intense disturbances all leave a path of damage and destruction making life look bleak and feel hopeless. In times like these, it's good to take stock of where you are and what has happened, acknowledge and grieve your losses, and look toward the new things God can and will do in your life. Rely on Him, and remember, it won't always look this bad and feel this hopeless.
PRAYER: Loving Father, when we face storms that ravage life, it's hard to remember and patiently wait for You to work in our hearts and situations. Give us Your strength in exchange for our weakness as we trust You to bring new growth and restore joy once again.
WORDS TO PONDER: "God's love always shines on the other side of life's darkest moments."
–Unknown
By Ann Shorb
©Copyright, Ann Shorb, 2016
Scripture taken from the New King James Version. Copyright © 1982 by Thomas Nelson, Inc.  Used by permission.  All rights reserved.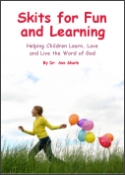 Skits for Fun and Learning
Skits for Fun and Learning is a collection of 15 puppet scripts and 5 articles on the subject of success with puppet ministries. The articles and scripts have been written by Dr. Ann Shorb and the book is available for purchase as a paperback, or as a PDF download.