TITUS 2:11-14
For the grace of God that brings salvation has appeared to all men, teaching us that, denying ungodliness and worldly lusts, we should live soberly, righteously, and godly in the present age, looking for the blessed hope and glorious appearing of our God and Savior Jesus Christ, who gave himself for us that he might redeem us from every lawless deed and purify for himself his own special people, zealous for good works.
Before the resurrected Christ left Earth and returned to Heaven, He told His disciples to wait, He would come again.
In our American culture, waiting often implies stillness and inactivity, but the instructions Christ gave His early followers were quite the opposite. He told them to be actively witnessing to those near and far of Him and the salvation He offers. (Acts1:8)
In addition, He had instructed them to be actively working to build up His Church and His kingdom. (John 9:4)
And He told them to be actively watching with anticipation for His return. That meant living in such a way that they were ready at any moment for His coming. (Titus 2:11-14)
Those instructions are for us as well. God wants His people to be actively witnessing, actively working, and actively watching for His return. So how about it? Are you actively waiting on God?
PRAYER: Thank You, Lord, that You give us Your Holy Spirit to help us actively wait on You to complete Your plan of redemption.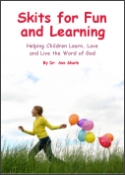 Skits for Fun and Learning
Skits for Fun and Learning is a collection of 15 puppet scripts and 5 articles on the subject of success with puppet ministries. The articles and scripts have been written by Dr. Ann Shorb and the book is available for purchase as a paperback, or as a PDF download.