PSALMS 5:1-3
Give ear to my words, O LORD, consider my mediation.  Hearken unto the voice of my cry, my King, and my God:  for unto Thee will I pray.  My voice shalt Thou hear in the morning, O LORD; in the morning will I direct my prayer unto Thee, and will look up.
My first year of teaching was in the fourth grade classroom in a Christian School just outside of Detroit, Michigan.  Everything was new and exciting, and I especially loved the Bible curriculum.  To this day I still remember some of those lessons (I wonder if any of the students do?)  One of my favorites was on prayer.  The book presented this simple little acrostic, ACTSS, as a reminder of what we should include when we pray.  In it we find all the elements that are in the model prayer that Jesus gave to His disciples, but by putting them in this format, it's easy to remember–easy enough to teach to a child!
Adoration – "Great is the LORD, and greatly to be praised; and His greatness is unsearchable," (Psalm 145:3).  Praise God for Who He is, for His presence with you, for His supply of your every need, for His greatnes, and anything else you can think of!

Confession – "If we confess our sins, He is faithful and just to forgive us our sins, and to cleanse us from all unrighteousness," (I John 1:9).  Agree with God about anything that He shows you that is sinful or unhealthy in your life.  Take time to cleanse your heart before Him daily, and be ready to forgive others who have sinned against you.

Thanksgiving – "O give thanks unto the LORD, for He is good: for His mercy endureth forever." (Psalm 107:1).  Simply say, "Thank You," to the Lord.  So often we ask for His blessings and provisions and then forget to express our gratitude.  Thank Him, too for the many good gifts He gives us every day that we didn't even ask for, like sunshine, rain, a place to live, protection, etc.

Supplication – Casting all your care on Him; for He careth for you," (I Peter 5:8).  Share with God your concerns for others and for yourself.  Seek His direction, His strength, and His healing for hurts and stresses.
Supply – "But my God shall supply all your need according to His riches in glory by Christ Jesus," (Philippians 4:19).  Paul wrote these words to very poor people who gave up their own food, clothing and money to help him and others.  You, too, can tell God exactly what things you need.
This little acrostic has been around for a long time and I've seen it in numerous places; I'm not sure who first composed it.  Remember, this isn't some magic formula, or rigid way of praying; it's simply a tool to keep us from focusing only on our own wants and needs when we come to our Heavenly Father.
Loving God, truly we adore and praise and thank You for being our God.  Forgive us where we fall short of living as You've told us to.  Thank you for the assurance that as we pray, You hear and will forgive, and will answer and meet our every need.
For more on prayer, see:
By Ann Shorb
©Copyright Ann Shorb, 2008
Don't forget, you can have A Light for My Path added to your church, organization, business or family website free of charge.  And once you set it up, it changes automatically each week. There's nothing else for you to do! See our syndication page.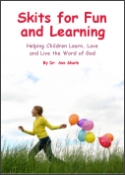 Skits for Fun and Learning
Skits for Fun and Learning is a collection of 15 puppet scripts and 5 articles on the subject of success with puppet ministries. The articles and scripts have been written by Dr. Ann Shorb and the book is available for purchase as a paperback, or as a PDF download.