HAPPY FOURTH OF JULY!
Hebrews 4:16 (NKJV)
Let us therefore come boldly to the throne of grace, that we may obtain mercy and find grace to help in time of need.
Recently the Supreme Court of the United States handed down a decision that same-sex marriage shall be legalized in all 50 states. Since then, there has been an intense buzz among many people of faith because this ruling goes against our Judeo-Christian values. We've talked, complained, fretted and regretted the things that have come to pass. We've moaned and groaned, grumbled and mumbled, but how much have we prayed?
I agree whole heartedly with Jim Daly, president of Focus on the Family who said, "For American Christians, I believe it's time to take our emotions to the Lord in prayer and worship. Focus on His divine attribute of faithfulness and goodness. Meditate on His sovereignty. Recognize Christians have an eternal hope in Christ."
This weekend as we celebrate our nation's independence, let us do so with a renewed commitment to pray faithfully and sincerely for our nation and its leaders, believing that God is still on the throne, trusting His promises, and standing firm in our conviction to live lives of purity, purpose, and peace. When we get so busy fretting or fighting that we fail to pray we lose our true leverage against the foe. Prayer is the key to all victory, no matter what enemy we fight. Remember, this is a time for prayer and not despair!
Read Jim Daly's article and be encouraged at what we can do. http://jimdaly.focusonthefamily.com/the-court-rules-now-do-these-four-things/
PRAYER: Almighty God, help us to rest in the knowledge and hope of Your sovereignty and grace. remind us that
WORDS TO PONDER: "Far from feeling helpless or lost in despair, this is a time for Christians to find purpose in their faith. Let's not forget that in times of oppression and persecution, the Church has grown and thrived."
–Jim Daly, Focus on the Family
–By Ann Shorb
Copyright Ann Shorb, 2015
Scripture taken from the New King James Version. Copyright © 1982 by Thomas Nelson, Inc.  Used by permission.  All rights reserved.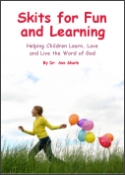 Skits for Fun and Learning
Skits for Fun and Learning is a collection of 15 puppet scripts and 5 articles on the subject of success with puppet ministries. The articles and scripts have been written by Dr. Ann Shorb and the book is available for purchase as a paperback, or as a PDF download.