Before the alarm clock went off in the morning, I heard a sweet little voice loudly declaring, "Jesus loves me this I know, for the Bible tells me so."
"What a way to start my day!" I thought as I listened to the words of my little granddaughter who is not quite three years old. She reminded me that I am loved by the eternal, beloved, only Son of God, Jesus!
Nothing refreshes my soul like hearing the voices of my grandchildren–and hearing them praise the Lord is simply the best! It leads my heart to praise Him, too.
The simple yet amazing truth of God's love is summed up in the words penned by Phillip Bliss more than 150 years ago in the little song "Jesus Loves Even Me":
I am so glad that our Father in Heaven
Tells of His love in the Book He has given;
Wonderful things in the Bible I see–
This is the dearest, that Jesus loves me.
REFRAIN:
I am so glad that Jesus loves me,
Jesus loves me, Jesus loves me;
I am so glad that Jesus loves me, Jesus loves even me.
Though I forget Him and wander away,
Still He does love me whereever I stray;
Back to His dear loving arms would I flee,
When I remember that Jesus loves me.
REFRAIN
Oh, if there's only one song I can sing,
When in His beauty I see the Great King,
This shall my song in eternity be, Oh, what a wonder that Jesus loves me!
REFRAIN.
That truth brings assurance, hope, peace, and joy to my heart. It's a precious thought I can carry with me through each hour of my day.
"Thank you, Little Granddaughter, for a sweet reminder, and for starting my day in such a beautiful way!"
PRAYER: Lord, Thank You for Your amazing love, and for using little lips to turn heart toward You early in the morning.
WORDS TO PONDER:
"Amazing love! how can it be
That Thou my God shouldst die for me."
–Charles Wesley, 1707-1788
By Ann Shorb
Copyright Ann Shorb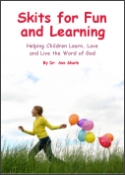 Skits for Fun and Learning
Skits for Fun and Learning is a collection of 15 puppet scripts and 5 articles on the subject of success with puppet ministries. The articles and scripts have been written by Dr. Ann Shorb and the book is available for purchase as a paperback, or as a PDF download.