EPHESIANS 5:1-2 (NKJV)
Therefore be imitators of God as dear children. And walk in love, as Christ also has loved us and given Himself for us, an offering and a sacrifice to God for a sweet-smelling aroma.
Mmmm—Something smelled good when I entered the building where I live! Someone was cooking Sunday dinner and that sweet aroma was so pleasing that I was tempted to follow my nose to the unit where the wonderful small was coming from, knock on the door, and invite myself to dinner! Just the scent of it made me want it, even though I didn't know exactly what it was.
In Ephesians 1, the Apostle Paul commands us as children of God to examine the life of Christ and then imitate His example, and live a life of love. How did He love us? He loved us so lavishly that He willingly gave His very own life as a sacrifice for our sins, which was, like the Old Testament burnt offerings, a sweet-smelling aroma to God the Father, (Leviticus 1:1-17). We are to love like that so others see Christ in us and want Him!
It's easy to say, "Yeah, but He was God, of course, He could be loving and kind. I can't live up to that standard," but if we stop there and never even try, we will not fulfill the command to break free from our sinful ways and to walk in love.
Anne Graham Lotz gives us the answer for this dilemma in clear, understandable terms:
"As we long to grow not only in our faith but in our Christian character so that others can readily see Christ in us, we need to live in the power of the Holy Spirit and in obedience to His Word. This transformation is a continual process that is brought about by daily saturating ourselves in the Scriptures then living it out on the anvil of our experience, until even our friends exclaim, 'I see Jesus in you!'"
So imitating Christ and walking in love is really a matter of knowing God's Word and letting God's Spirit do His work in our lives. That's sounds like something we all can do—if we really want to!
PRAYER: Precious Father, I want my life to be a sweet smelling aroma that pleases You and draws others to Christ. Let Your Spirit do His work in me, moment by moment, day by day as I live in His power, wisdom, and direction.
WORDS TO PONDER: "Look to God's Word for yourself. Read your Bible every day in order to understand, apply, and obey it."
–Anne Graham Lotz
READ REALATED DEVOTIONALS:
By Ann Shorb
Copyright Ann Shorb, 2015
Scripture taken from the New King James Version. Copyright © 1982 by Thomas Nelson, Inc.  Used by permission.  All rights reserved.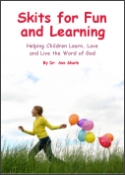 Skits for Fun and Learning
Skits for Fun and Learning is a collection of 15 puppet scripts and 5 articles on the subject of success with puppet ministries. The articles and scripts have been written by Dr. Ann Shorb and the book is available for purchase as a paperback, or as a PDF download.