PSALM 17:5 (NKJV)
Uphold my steps in Your paths,
That my footsteps may not slip.
When I think of the works of renowned composer George Frideric Handel (1685–1759), immediately the grand melody of MESSIAH comes to mind. I cannot even fathom where such astounding melodies come from, and how his brain could conceive of such an intricate array of notes and timing to create the many masterpieces he produced! Yet not all of Handel's work was so astounding. For example, the simple little words to fit the tune of the Westminster Chime sounded forth by Big Ben, London's famous tower clock, came from Handel. Although the words are simple, their message is profound: "Lord through this hour, be Thou our guide. So, by Thy power no foot shall slide."
Sixteen little words . . . Two short sentences . . . But can you imagine the power behind them? In essence what you're asking is, "Lord, in this hour guide my steps. Help me not to slip into sin, nor to walk away from Your principles. Keep my feet on the path of Your Word and Your will."
It would be interesting to take just one day and use these words to bless each hour of that day and see what God would do in your life and circumstances. Are you up for the challenge? If so, set the alarm on your watch or cell phone to sound at the beginning of each hour. Then briefly stop wherever you are and breathe this little prayer: "Lord through this hour, be Thou our guide. So, by Thy power no foot shall slide." You can even take it one step further and personalize the words so they are something like this: "Lord through this hour, be Thou my guide. So, by Thy power my foot won't slide." Then sixty minutes later, commit another hour to His guidance and care.
This little prayer, if whispered often, can change the life of the one who prays it. Even if we only prayed it for part of the day, it would make us more aware of His presence, more reliant on His power, and more intentional in our direction. These are simple words with powerful potential. It seems that even this little piece of Handel's work is pretty amazing after all!
Prayer: God of the Ages, truly we seek Your blessing on each hour of the day. Thank You that when we truly allow You to be our guide each hour of the day, our steps will not falter, nor stray from Your will.
Words to Ponder: "Do not ask the Lord to guide your footsteps if you are not willing to move your feet."
–Anon
By Ann Shorb
©Copyright, Ann Shorb, 2014
Scripture taken from the New King James Version. Copyright © 1982 by Thomas Nelson, Inc.  Used by permission.  All rights reserved.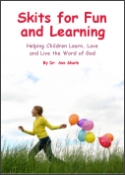 Skits for Fun and Learning
Skits for Fun and Learning is a collection of 15 puppet scripts and 5 articles on the subject of success with puppet ministries. The articles and scripts have been written by Dr. Ann Shorb and the book is available for purchase as a paperback, or as a PDF download.