PROVERBS 3:6 (NKJV)
In all your ways acknowledge Him,
And He shall direct your paths.
A young friend of mine shared her story with me recently. For the last year, she and her family were planning and preparing with certain goals in mind—goals they thought God had directed. Then, suddenly, a circumstance beyond their control changed everything. The path ahead was barricaded and they stood at a crossroad bewildered and confused, not knowing which way to turn.
That morning she picked up one of the many Bibles she had in her home. Inside the front cover was a note a teacher wrote to her while she was still in high school. It had only one simple thought, but it changed her day. It said:
There is always a plan, and there is always a purpose. Always!
Remembering that brought her comfort, and although the confusion lingers in her mind over why things changed so drastically and so suddenly, she knows that her heavenly Father has it all under control. His ways are perfect. His plan is sure.
Whatever circumstance you're facing today, God knows. He has a plan and a purpose for it all. And He also has a promise for you to cling to as you pass this way. Get into His word and find that promise. Repeat it in your mind and hold it dear to your heart as you let go of old plans and find His direction for today.
PRAYER: God, bless my friend and her family. Direct their path so that they can see Your plan and Your purpose clearly.
WORDS TO PONDER: "Never dismiss the value of life experiences. They are part of the way God teaches us."
Charles Stanley, Advancing Through Adversity
By Ann Shorb
©Copyright Ann Shorb, 2014
Scripture taken from the New King James Version. Copyright © 1982 by Thomas Nelson, Inc.  Used by permission.  All rights reserved.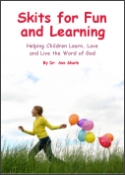 Skits for Fun and Learning
Skits for Fun and Learning is a collection of 15 puppet scripts and 5 articles on the subject of success with puppet ministries. The articles and scripts have been written by Dr. Ann Shorb and the book is available for purchase as a paperback, or as a PDF download.