JOHN 14:2-3 (NKJV)
In My Father's house are many mansions; if it were not so, I would have told you. I go to prepare a place for you. And if I go and prepare a place for you, I will come again and receive you to Myself; that where I am, there you may be also.
I'm moving! And because my new place is significantly smaller than the home we've occupied for more than a decade, I have tons of sorting and shifting to do to get ready. What stays? What goes? What needs to be given away or sold? It seems that everything I look at demands a decision! There are stacks, and piles, and boxes everywhere! Next comes the painting, repairing, and updating at the new home, then the actual move itself, followed by days of unpacking and settling in. What a chore!
I'm so thankful that when I go to my Heavenly home, either by death or at Christ's return, I won't have to do any of this! My new dwelling place there is move-in ready because Christ has gone ahead and done all the work.
For each one of us, God's Word provides direction for finding this Heavenly home. Christ's death paid the purchase price in full so that you can obtain entrance into His kingdom, and His Spirit seals the transaction. What's left for you to do? Nothing but to accept His free gift of salvation and eternal life with Him.
If you're uncertain about your place in Heaven, don't wait another day to make sure. Come to Christ and trust Him to save you from the sin that will keep you from entering into God's kingdom.
For all have sinned and fall short of the glory of God, (Romans 3:23).
For the wages of sin is death, but the gift of God is eternal life in Christ Jesus our Lord, (Romans 6:23).
But God demonstrates His own love toward us, in that while we were still sinners, Christ died for us, (Romans 5:8).
Accept God's gift of salvation by confessing that you are a sinner and can do nothing on your own to merit His salvation. Then ask Him to forgive you and to make you His child.
If you confess with your mouth the Lord Jesus and believe in your heart that God has raised Him from the dead, you will be saved. For with the heart one believes unto righteousness, and with the mouth confession is made unto salvation, (Romans 10:9-10).
For "whoever calls on the name of the LORD shall be saved," (Romans 10:13).
Once you are born into His holy family, your life will change as His Spirit indwells you and gives you new direction for daily living—and new joy. Then you can look forward to one day moving into a brand new home in Heaven and eternally enjoying life in His presence!
Father, Son, and Holy Spirit, I thank You for the wonderful gift that awaits me in Heaven and may my will constantly give way to Yours so that with joy and thanksgiving I accept whatever You are pleased to do in my life.
By Ann Shorb
©Copyright 2011, Ann Shorb
Scripture taken from the New King James Version. Copyright © 1982 by Thomas Nelson, Inc.  Used by permission.  All rights reserved.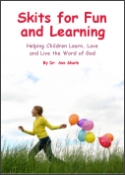 Skits for Fun and Learning
Skits for Fun and Learning is a collection of 15 puppet scripts and 5 articles on the subject of success with puppet ministries. The articles and scripts have been written by Dr. Ann Shorb and the book is available for purchase as a paperback, or as a PDF download.