ISAIAH 55:6-7
Seek the LORD while He may be found, call upon Him while He is near. Let the wicked forsake his way, and the unrighteous man his thoughts; let him return to the LORD, and He will have mercy on him; and to our God, for He will abundantly pardon. (NKJV)
The young mother looked weary and worn as I gazed into her eyes. Lines of worry and stress crossed her forehead; years of bad choices and rough living told their story on her face. I was surprised to see her again. It had been 15 years since our paths crossed when she was an angry teenager. Recently at a crossroad in her life, she chose to walk a new path so today is a new day in her life! Now she finds hope and strength in the loving Heavenly Father whom she rejected for so many years. Now she holds on to the hand that was outstretched and waiting for her all the time.
Yes, it's a new day in this woman's life, but this recent decision brings with it a chaotic swirl of effects. Old relationships are strained, threatened or breaking. Others ask, "What happened?" and, "How long will this last?" Children are confused by sudden changes in their home, while other family members rejoice. I rejoice with her, too, as she turns from the past and sees herself as Christ sees her–His chosen and His beloved. There's so much work to do, but even as her friend and sister in Christ, I cannot take those steps for her. Those she must make on her own, but I can pray for her and her situation. I can offer her words of encouragement. I can come along in a practical way and provide her with help and support, and these things I do gladly.
For those of you who are tired of living in the old ways and habits that have really taken you nowhere, I encourage you to seek a new way and a new day. Get on your knees before God and accept His gift of salvation or restoration.
To others who are on that road, but find the journey to recovery slower than you'd like, I say, "Hang in there! Don't give up!" Taking one step at a time is the only way to reach the top of the mountain. The godly choices you make each day will take you one step closer to being all God wants you to be.
To those who are currently walking in the joy of God's fellowship, may I remind you to pray for and encourage those who are not yet where you are. Be a friend, a mentor, a cheerleader and walk beside another as she/he travels on God's highway.
Remember, a new day brings new hope. New hope brings godly change. Godly change brings peace and contentment. May this be the start of your new day.
PRAYER: Heavenly Father, help us all to see Your outstretched hand and walk day by day with You.
WORDS TO PONDER:
"Repentance may be old-fashioned, but it is not outdated so long as there is sin."
–J.C. Macaulay
"Repentance is a change of willing, of feeling, and of living, in respect to God."
–Charles Finney
By Ann Shorb
Copyright Ann Shorb 2008, 2016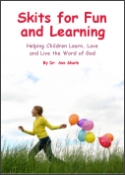 Skits for Fun and Learning
Skits for Fun and Learning is a collection of 15 puppet scripts and 5 articles on the subject of success with puppet ministries. The articles and scripts have been written by Dr. Ann Shorb and the book is available for purchase as a paperback, or as a PDF download.