MATTHEW 5:16 (KJV)
Let your light so shine before men, that they may see your good works, and glorify your Father which is in Heaven.
My dear friend and I sat in the restaurant chatting excitedly because we hadn't seen each other in such a long time. When the server came to take our order, we hadn't even begun to think about what we wanted to eat! That's the way it often is when good friends get together. At least that's the way it is when my friends and I see each other.
Now, my friend is very outgoing and kind. As usual, she noted the server's name tag and every time the young woman came to our table, my friend had a big smile and a kind word, and she called the waitress by name. I'm sure having a happy customer to deal with was a nice thing for her.
When our food arrived, my comrade turned to the waitress, called her by name again, and respectfully asked, "We're going to pray before we eat our food. Is there anything on your heart today that you'd like us to pray for?"
You could tell the server was shocked. I doubt that any customer had ever asked her that before. Finally she said quietly, "My kids."
My friend smiled and nodded, "OK, we'll be glad to pray for your kids."
The waitress left, we bowed our heads and prayed quietly.
We had a wonderful time of conversation and catching up on things, and of course, we enjoyed our lunch. Before we left, my friend pulled from her purse a gospel tract and a copy of "Our Daily Bread" devotional, and left them on the table with a generous tip.
This lady has a heart for people and a passion for souls. Her greatest desire is to see people come to Christ and walk with him, so she attempts to live every moment of her life in a way that will show others the light of Christ and point them to Him.
I left our meeting feeling warm and happy—and with a new idea for showing Christ's love and compassion to the world around me. In all my years, I never heard anyone ask a server if she/he had a need for prayer! Thank you, my friend, for inspiring and motivating me to be a constant witness for Him.
PRAYER: Lord, thank You for the people who come across my path today. Help me to shine as a light for You with what I say, how I say it, and what I do. Keep my heart tender so that when I'm out of their presence, the light of Your love and Your Word still shine on their day.
WORDS TO PONDER: "Jesus calls us to be light, and He reminds us that it's no good covering up a lamp. How do we light up the world? By our good deeds, says Jesus, "by everything we do as Christians."
–Nicky Gumbel, Why and How Should I Tell Others?
By Ann Shorb
©Copyright Ann Shorb, 2014
Scripture taken from the King James Version of The Holy Bible.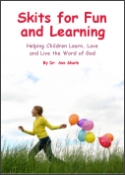 Skits for Fun and Learning
Skits for Fun and Learning is a collection of 15 puppet scripts and 5 articles on the subject of success with puppet ministries. The articles and scripts have been written by Dr. Ann Shorb and the book is available for purchase as a paperback, or as a PDF download.