2 CORINTHIANS 7:5-6 (NKJV)
For indeed, when we came to Macedonia, our bodies had no rest, but we were troubled on every side. Outside were conflicts, inside were fears. Nevertheless God, who comforts the downcast, comforted us by the coming of Titus . . .
When I moved into my new home last July, dear friends and family helped me get the new place ready. They cleaned and painted, boxed my things, and on moving day so many showed up to help that we nearly tripped over one another! Every time I needed something, a friend was there to help. It was so exciting! (Read the story of moving day.)
That excitement turned to dismay, though, when just a few weeks later the beautiful new laminate floor we installed began to warp and buckle. Within a short time, it was obvious that circumstances beyond our control caused a major problem, and the entire floor had to be removed and replaced. Ugh! What a job, but my faithful friends worked diligently last week and we finished the project late Saturday evening. It was a rough week with a lot of different problems.
With so much to put back in place before my Prayer Board came for dinner Monday evening, another dear friend came to help me pull it all together that afternoon. She left and one of my co-workers showed up early to lend a hand. I put the last dish in the cupboard and the counter was clear. Everything looked so nice. And then the sound of water dripping sent shivers up my spine. Where the sound came from was a mystery only until I opened the cupboard below the kitchen counter.
The line from the sink to the refrigerator was spewing water so rapidly that my pots and pans were filling up. Apparently it was leaking for quite some time but we hadn't' heard it. My heart sank! How in the world could I welcome guests in 20 minutes with all of this to be cleaned up? But my friend was there and she didn't wait to be invited to work! She ripped things from the cupboard and started mopping. Together we managed to clear the flood and dry things out as much as possible. The once-cleared counters were cluttered with plastic bowls and containers, pots and pans and lots of other things, but it didn't matter. In my time of need, a friend was there and the job was done. Dinner was served and the evening with other dear friends was a blessing. I knew the Lord was there.
That must have been how the apostle Paul felt when he was going through such hard times and Titus showed up. The young man brought a message of encouragement and hope just when it was needed. There's nothing like having a friend by your side when the going is rough and pathway is steep.
Is someone you know going through a tough time? Is there someone that needs a helping hand? Can you be the one the Lord uses to bring comfort and hope in that time of need?
Lord, You've come to help me so often in the form of a friend. Now help me to be a friend to others like my friends have been to me. Use me to bring comfort, hope, encouragement, and blessing to others and share with them Your incredible love.
©Copyright Ann Shorb, 2011,
Scripture taken from the New King James Version. Copyright © 1982 by Thomas Nelson, Inc.  Used by permission.  All rights reserved.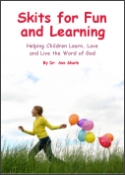 Skits for Fun and Learning
Skits for Fun and Learning is a collection of 15 puppet scripts and 5 articles on the subject of success with puppet ministries. The articles and scripts have been written by Dr. Ann Shorb and the book is available for purchase as a paperback, or as a PDF download.