II TIMOTHY 4:7 (KJV)
I have fought a good fight, I have finished my course, I have kept the faith.
In the last three devotionals, we've looked at three different songs:
What do all these have in common? They were written by the same person—Eliza Jane Edmunds Hewitt (1851-1920). Interestingly, publishers in her era hesitated to include in their hymnals too many songs by the same author, so she and other writers used pen names for many of their works.
Raised in a loving Christian home in Philadelphia, Pennsylvania, Eliza was taught the Word of God all through her youth. At age 18, having lived through the Civil War era, and completing high school as valedictorian of her class, Eliza became a dedicated teacher, not only in the public schools, but in her church as well.
At age 33, her days of school teaching ended suddenly when an unruly student stuck her with his slate injuring her back so severely that she spent six months bedridden in a heavy body cast. Years of recovery and limited activity followed.
Faced with her inability and inadequacy, Eliza buried herself in deep study of God's Word, and simply shifted gears. Instead of teaching in a classroom, her love of children and her deep passion for leading them to Christ found an outlet through the songs, stories, and Sunday School literature she wrote.
She also wrote the lyrics to many well-known hymns such as "Sunshine in My Soul", "Will There Be Any Stars in My Crown", "More About Jesus Would I Know", "Singing I Go Along Life's Road", "Give me Thy Heart", and "Stepping in the Light". Would she have written any of these if she had not been forced to stop her teaching?
Although the effects of her injury continued, Eliza Hewitt had an active and productive life serving in children's ministries in various churches in the Philadelphia area. She died at the age of 68 having lived a life committed to knowing and serving the Lord Jesus Christ in spite of challenges and changes. What a testimony and inspiration!
PRAYER: Dear Lord, saints like Eliza Hewitt inspire me to know and serve You more each day. Please use my inadequacies for Your glory.
WORDS TO PONDER: "Our inadequacy can turn out to be a blessing by driving us into a stronger relationship with God. We can say with Paul, "I will rather boast about my weaknesses, so that the power of Christ may dwell in me" (2 Cor. 12:9)."
–Charles F. Stanley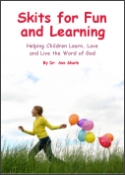 Skits for Fun and Learning
Skits for Fun and Learning is a collection of 15 puppet scripts and 5 articles on the subject of success with puppet ministries. The articles and scripts have been written by Dr. Ann Shorb and the book is available for purchase as a paperback, or as a PDF download.