JEREMIAH 33:3 (NKJV)
Call to Me, and I will answer you, and show you great and mighty things, which you do not know.
MATTHEW 7:7-8 (NKJV)
"Ask, and it will be given unto you; seek, and you will find; knock, and it will be opened to you. For everyone who asks, receives, and he who seeks finds, and to him who knocks it will be opened."
This morning I caught myself smiling as I thought back through the years to a family vacation we had with our daughter and her family. We spent five days together in a missionary guest house in Florida where we'd stayed before, but several upgrades and changes had been made since our last visit. For one thing, the house was stocked more fully than ever with good things for guests to enjoy. Food, dishes, books and DVD's . . . you name it, it was there.
It was a busy week of visiting friends, sightseeing, and enjoying the scenery so we didn't spend a lot of time at the guest house. When we were there, though, our sweet little granddaughters, who were then preschoolers, played contentedly with the few toys we brought along, but that meant playing with the same things over and over throughout the week.
Moments before leaving for the airport, our daughter was checking every part of the house to make sure she packed all of their belongings when I heard her squeal, "Mom, come look!" I wasn't sure what she found, but I went running. I knew it must be good because if it were a huge spider or a snake she would have called her husband NOT me!
There she stood in front of a bedroom closet that none of us had opened during those five days until then. It was packed from floor to ceiling with toys! Games, puzzles, coloring books, markers, crayons, Legos, and stuffed animals–it was all there just waiting to be used and enjoyed. What a gold mine of recreational fun, but we missed it. We simply missed it all because no one bothered to open that closet door. We really hadn't needed to. We laughed and said, "Oh, well, now we know for next time!"
Every time I recall that story, I wonder how many blessings God's children miss because we don't seek out what He has in store for us. How many answers to prayer do we fail to experience because we never ask? How many times do we settle for discouragement or sorrow when there is reassurance and comfort waiting to be found in His Word but we fail to open it? How often do we struggle working in our own strength when His is right beside us?
God's rich and bountiful blessings are available to us every moment of every day and every night, if only we trust in and turn to Him. Let's not leave unopened the gift of His supply for our every need. That would be no laughing matter!
PRAYER: Heavenly Father, You have all that we need for every need, and unlimited blessings beyond that! Help us not to miss them because we fail to ask, seek, and knock.
By Ann Shorb
©Copyright, Ann Shorb, 2016
Scripture taken from the New King James Version. Copyright © 1982 by Thomas Nelson, Inc.  Used by permission.  All rights reserved.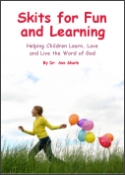 Skits for Fun and Learning
Skits for Fun and Learning is a collection of 15 puppet scripts and 5 articles on the subject of success with puppet ministries. The articles and scripts have been written by Dr. Ann Shorb and the book is available for purchase as a paperback, or as a PDF download.