Matthew 28:19-20
Go ye therefore, and teach all nations, baptizing them in the name of the Father, and of the Son, and of the Holy Ghost: Teaching them to observe all things whatsoever I have commanded you; and, lo, I am with you alway, even unto the end of the world.
This morning I was privileged to attend a baptismal celebration. Celebration? Yes, it was a celebration of the commitment by three young people taking the next step of faith in their walk with Jesus Christ. Each one made it clear that he/she had trusted Christ as Savior and that it was his/her desire to be identified with Christ and follow Him every day.
Ryan, age 20, testified of his past uncertainty and struggles to understand God's desire for his life, then he expressed his faith and calmly stated his commitment to follow Christ and live for Him. Twelve-year-old Jake came next. When asked by the pastor why he was being baptized, with sincerity and simplicity he stated, "I just want to get closer to God. (Pause) And I'm doing it!" Sweet little Cassie was led to Christ by one of her older sisters. Today she affirmed her faith and her understanding of this thing called baptism, and she declared her desire to walk with Jesus day after day. Cassie is only – the same age I was when I made that same commitment and was baptized.
Cheers and praise went up from the church family for each of these young people as one by one they were lowered into the waters of baptism, and then raised to walk in newness of life. The thing that thrills me most is that I know that this church family will stand behind these young believers. This church will love them, pray for them and guide them into the truth of God's Word. They will answer the tough questions these young people ask, help them when they are struggling, and support them when they falter.
As I left this service of celebration and commitment, I asked myself two questions: First, am I being faithful to my commitment to live for Christ each day? Second, am I helping and enabling others, particularly those young in the faith, to carry out their desire to walk with Him?
Lord, I praise You for these three wonderful young people who have declared their faith in You. Bless them and keep them always in Your loving care. Give them strength, wisdom and courage for each step of their journey.
©Copyright Ann Shorb, 2007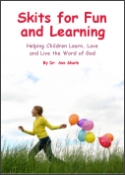 Skits for Fun and Learning
Skits for Fun and Learning is a collection of 15 puppet scripts and 5 articles on the subject of success with puppet ministries. The articles and scripts have been written by Dr. Ann Shorb and the book is available for purchase as a paperback, or as a PDF download.