PSALM 119:105 (KJV)
Thy word is a lamp unto my feet, and a light unto my path.
February is National Library Lovers' Month! Across the USA, libraries are celebrating with special activities and book sales as they recognize the great contribution libraries make to our society. With the coming of technology, public libraries aren't as popular as they once were, but they still hold a unique and useful place in every community.
For a book lover like me, a library is a wonderful place to visit! You can find books on biology, baking, and bird-watching. There are volumes about careers, clowns, and carpentry. The vast span of interesting topics you'll find in a library fits all ages, from toddlers to senior citizens. Its resources seem endless.
I have to confess, books are my addiction. In fact, the extensive lending library at Christian Counseling & Educational Services sets us apart from any other counseling service that I know of. We have hundreds of reference books for our counselors, and another 4,000 books, CDs and DVDs available for our clients and friends to borrow. Why? Because we know the value of the knowledge and wisdom contained in each of those volumes.
Yet of all the books we have, there is one that stands out among them all. It has been called "A Book among books," and is, in essence, a library all in itself. This book is God's inspired Word, The Holy Bible. Composed of 66 books, penned by more than 140 writers over a period of more than 1400 years, this book, and this one alone, holds all the answers for all of life's questions. It has the power to change lives.
The Bible has been called a light, a lamp, a guide, a sword. A.Z. Conrad, American pastor and evangelist, got it right when he said, "It outlives, out lifts, outloves, outreaches, out ranks, outruns all other books. Trust it, love it, obey it, and Eternal life is yours."
PRAYER: Father, thank You for the gift of Your infallible, inerrant, inspired, eternal written Word.
WORDS TO PONDER: "Through reading the Word, I learned that God does want to talk to us and that He has a plan for our lives that will lead us to a place of peace and contentment."
–Joyce Meyer, How to Hear From God
RELATED ARTICLES AND DEVOTIONALS:
By Ann Shorb
©Copyright Ann Shorb, 2014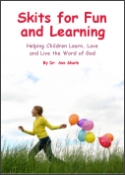 Skits for Fun and Learning
Skits for Fun and Learning is a collection of 15 puppet scripts and 5 articles on the subject of success with puppet ministries. The articles and scripts have been written by Dr. Ann Shorb and the book is available for purchase as a paperback, or as a PDF download.