PSALMS 37:23 (NKJV)
The Lord also will be a refuge for the oppressed,
A refuge in times of trouble.
And those who know Your name will put their trust in You;
For You, Lord, have not forsaken those who seek You.
When I saw my friend, my heart was sick. Her face was unbelievably black and blue. I'd heard that she fell again, but I didn't realize that she hurt herself so badly. Now that she's 90, she's growing progressively more feeble, and her gait is wobbly. The thing that amazed me most when I saw her was that in spite of the many colors stretched across her face, she was smiling and a sparkle of joy filled her eyes. Truly her wounded face was beautiful.
Why is it that one person faces Life's hardships and sinks into the pit of despair, while another may be overcome with tragedy and still be able to smile? What makes the difference? Primarily, it's attitude . . . My friend has an attitude that accepts what happened and is determined to make the best of the situation. She admits she's in pain and is frustrated by the whole situation. She acknowledges that life is getting harder and harder, but she doesn't wallow in self-pity. Instead she accepts the help of others and treats them with respect for their kindness to her. She is grateful for the things she can still do and for the blessings she has. She chooses to focus on others and not on herself, and she finds her strength in the Lord.
It takes a determined effort to rise above grueling circumstances and to be able to smile in the face of adversity. God's Word gives us some guidelines for being able to do that:
Fix your thoughts on the Lord, (Isaiah 26:3).
Know that He'll never leave you, (Hebrews 13:5).
Picture Him beside you through every difficult moment, (Psalm 23:2).
Talk to Him freely and tell Him your cares and woes, (I Peter 5:7).
Remember His promises and cling to them tenaciously, (Psalm 119:50).
Recognize the blessings He sends your way and thank Him for them, (Psalm 68:19).
Praise to God for His faithfulness, (Psalm 89:1).
Accept the help and support of others, (James 5:14).
You never know what a day may bring; however, you can face any circumstance more easily if you do it in the strength of the Lord, turn your face toward Him, and renew your mind according to His Word. Then, even when your wounds are deep, your face can reflect His beauty.
Prayer: Lord, when the hard times hit, help me to remember to keep looking up!
Words to Ponder: "What lies behind you and what lies before you pales in significance when compared to what lies within you."
–Ralph Waldo Emerson
By Ann Shorb
©Copyright, Ann Shorb, 2013
Scripture taken from the New King James Version. Copyright © 1982 by Thomas Nelson, Inc.  Used by permission.  All rights reserved.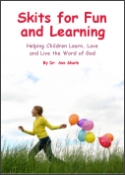 Skits for Fun and Learning
Skits for Fun and Learning is a collection of 15 puppet scripts and 5 articles on the subject of success with puppet ministries. The articles and scripts have been written by Dr. Ann Shorb and the book is available for purchase as a paperback, or as a PDF download.