JAMES 4:8 (KJV)
Draw nigh to God, and He will draw nigh to you.  Cleanse your hands, ye sinners; purify your hearts, ye double minded.
There's an interesting contrast in Scripture between Adam and Eve's response to hearing God's voice after they sinned and the reaction of the disciple named Peter when he sinned against God. In Genesis we read that Adam and Eve lived in a perfect world and had daily fellowship with their Creator.  Then Eve listened to the deceitful voice of desire; ultimately they both chose to disobey God and ate the fruit He called forbidden.  Instantly they knew they had done wrong, but instead of running to Him for His forgiveness and reconciliation, the next time God called them, they hid from Him.  Guilt, shame and fear replaced their perfect fellowship, and they feared and avoided Him.
In contrast to that, look at the life of Peter.  As a disciple, he spent time with the Lord on a day to day basis and had wonderful fellowship with Him.  Peter preached His message, participated in His miracles, sought to protect Him in the garden.  Then the unthinkable happened—Peter gave in to fear, doubt and confusion and he sinned terribly against the Lord by three times denying that he even knew Christ.  Realizing his sin, Peter wept bitterly and repented, and just a few days later he was among those who saw the risen Lord.  The most interesting scene, however, came after an unsuccessful night of fishing.  The disciples heard a voice from the shore telling them to put down their nets on the right side of the boat.  They did, and their nets were filled with fish!  That's when they realized it was the resurrected Christ speaking to them.  Peter couldn't wait long enough for the boat to take him the rest of the way to the shore, so he jumped in the water and ran to the Lord.
What a contrast!  In both stories the individuals had sweet fellowship with God, yet they sinned against Him.  Although the reasons for their sin were different, the result was the same—their fellowship with God was broken.  The most important aspect of the story, though, is their response.  Adam and Eve ran from the Lord; Peter repented and ran to the Lord.  He left the shame, guilt and confusion of his sin behind, and ran to Christ when he heard His voice.  His fellowship was restored, and his faith rewarded.
Precious Lord Jesus, how thankful we are that we can run to Your loving, forgiving arms when we turn from our sin, and find sweet fellowship restored.
–By Ann Shorb
©Copyright 2011, Ann Shorb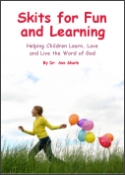 Skits for Fun and Learning
Skits for Fun and Learning is a collection of 15 puppet scripts and 5 articles on the subject of success with puppet ministries. The articles and scripts have been written by Dr. Ann Shorb and the book is available for purchase as a paperback, or as a PDF download.